This weeks challenge over at the Sweet Stampin' is Flower Power and our lovely sponsors for this week is My Favourite Things that will give a $25 gift certificate for a lucky winner. Our monthly sponsors is Joanna Sheen with a £10 voucher.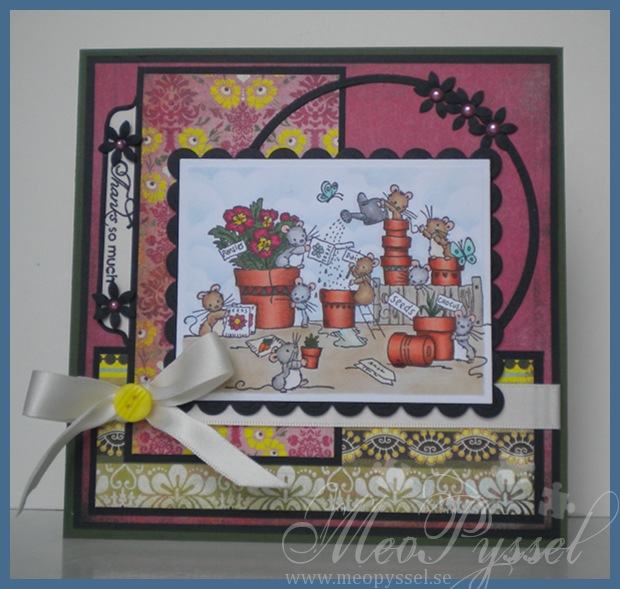 So I have to admit that this card is made in a hast. I have had a full week and the next wont be better from what i can see.
So i wanted to use this adorable stamp from Lili of the valley that I got the other day. I did have a really nice time color it, the only think I'm a bit annoyed with it the Pansies, especially the leaves but hopefully I will do it better next time. I bought this stamp with my mom in mind and i have to make a card for her soon but this ons is actually for my grandmother as a thank-you for the wedding-gift me and Bjorn received a few days ago.
The papers are from Basic Gray's collection Hello luscious, the yellow button is also from that collection, and the flowers are a punch from EK success.
I have to say that I'm not very happy with the card, there is something off but I'm to tiered to see or fix it and the good thing with Grandparents is that they love all you do!
I have probably forgot something so ask if there is something you wonder about…
Stamp: Lili of the Valley – The Potting Shed. Gina K Design – Fancy Tags
Paper: Basic Gray – Hello Luscious
Copic: E99, E97, E95, R37, BG72, BG75, E93, N3, N1, E31, E33, E50, YG67, G29, YR16, YR18, Y15, Y19, R35, R37, R39, E40, E41, E43, W3, BG11, E57, GB 11, BG13, BG72, N3, N5, E40, E41
Dies/punches: Spellbinders – Nestabilities, Large normal and scalloped rectangles, Large and small Circle. My Favourite Things – File Tab. EK Success – Daisy small.
Other: Distress ink – Tumbled glass, vintage photo

Träffar: 428