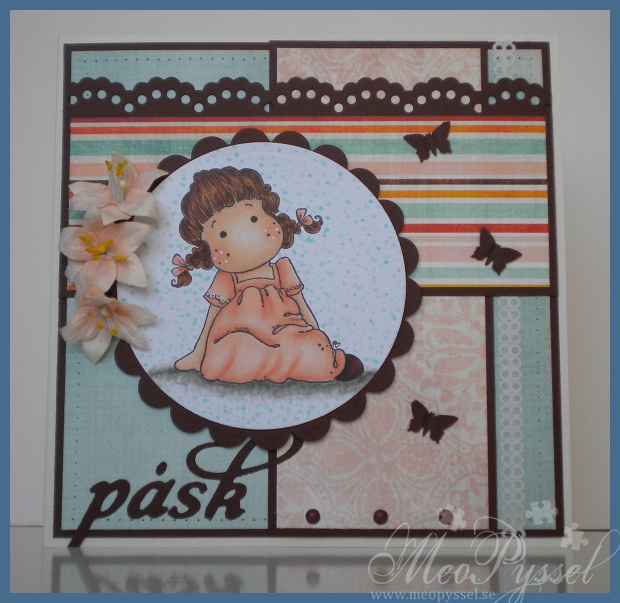 Last week I decided to practice coloring fold, simple folds, and i choose this nice Sweetie Tilda from Magnolia to practice on. I have also for a long time been wanting to use my YR00-YR02 for this nice peach-color so I got on with it and this is the result. I'm really happy with the bottom-part of the dress and the hair but I should had made the belly-area a bit darker, but that will have to be for the next time.
After little Tilda's dress was done I went looking for papers that would fit and I found this collection from Bo Bunny called Kitchen Spice. I think these papers are just beautiful with it soft and at the same time vibrant tones. I tried to match the hair and shoes to the paper and then making a dotted background (that I went a bit overboard with) to match.
As I'm not use to working with light colors like this I decided to try to use some flowers to get a easter/spring-feeling. And for being to things I'm not that comfortable with I'm very happy with how the card turned out. I have to admit that i just couldn't chose a lighter cardstock, i still needed contrast but i still think it feels bright and light. I have no idea what brand the flowers are but i bought them in the Magnolia-shop in Borås like a year ago i think. I really like their color and shape.
The greeting "påsk" means Eater in Swedish and I intend this card to be an easter-greeting for one of my grandparents, I haven't decided which ones yet. I'm not that into the whole Bunny-themed easter so this card is more of how i view eater, spring but still a bit chilly:). The letters i used is from Quickutz alphabet Harvest, which I love the look of. But i do hate the die (in my cuttlebug that is)… I never get it to cut everything so i always have to go over it with my knife. And i have tried like dozens of was to sandwich and fill out with cardstock but nothing works. If anyone has a tip I'd LOVE to hear it! I would like to use this die more often…
Stamp: Magnolia – Sweetie Tilda
Copic: YR02, YR01, YR00, YR000, E49, E29, E93, E11, E21, E51, E29, E39, E35, YR23
Paper: Bo Bunny – Kitchen Spice
Dies/punches: Spellbinders – Nestabilities – scalloped and normal circle. Nellie Snellen – Borders. Artemio – Butterfly 3 (small). Quickutz – Harvest Alphabet.
Other: Sakura – Gelly Roll – white

Träffar: 736