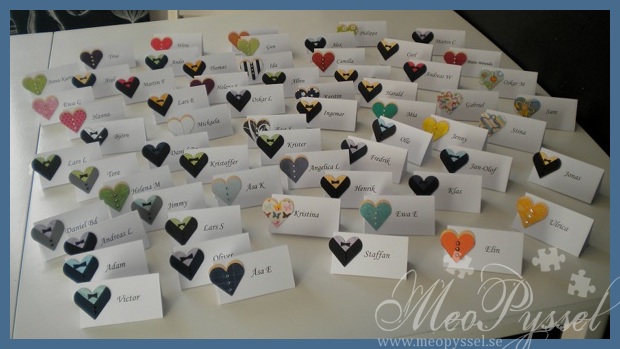 So i have finally finishes all the table-placements (which i did like two weeks ago), photographed them and now actually posting them. So here comes a group photo and some samples of the three kinds I made.
All the hearts is made with Spellbinders heart dies and I did use the second smallest one. The dresses are made with a skin-colored heart and a patterned paper heart a bit off-set to get a dress and neck-line. The jackets are made with a colored heart for a shirt and a black, gray or dark blue one that i cut out a triangle to form the jacket, there can be duplicates among the mens costumes. The kids hearts i simply a single heart with a flower-shaped paper-clip.For all the backsides i also attached a black heart so the person on the opposite of the table don't need to see a ugly back of the hearts.
The white base is made from a white 225g smooth white cardstock measuring 8x12cm. I scored the paper at 1, 5,5 and 9 and then cut folded it as a triangle with a 1cm flap to keep it all together.
I'mreally pleased how they all turned out and I just can't wait to see them all one the tables on the wedding!

I of coarse have to start off with the ones for me and Björn. The dress that is for me a copy of the ones on the invitations but a size smaller. On Björn's jacket i did make a pocket to get his jacket to be a bit different from the others (It was actually Björn's idea). Björn is also the only one that has a white shirt.
When it comes to the womens dresses I have tried to keep the colors and pattern to what color the person do like and on the ones I didn't know I have either tried to imagine them In this kind of color or I took one I liked.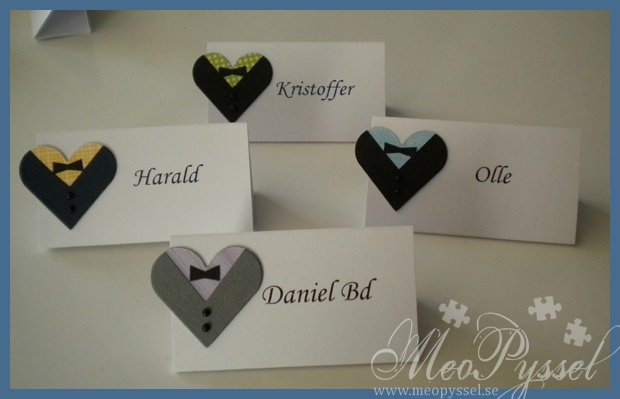 As I did say the mens hearts are made up with a few different colors and patterns on the shirt and black, gray or dark blue for the jackets. There might be some duplicates but it's more like to be like that at the wedding anyway.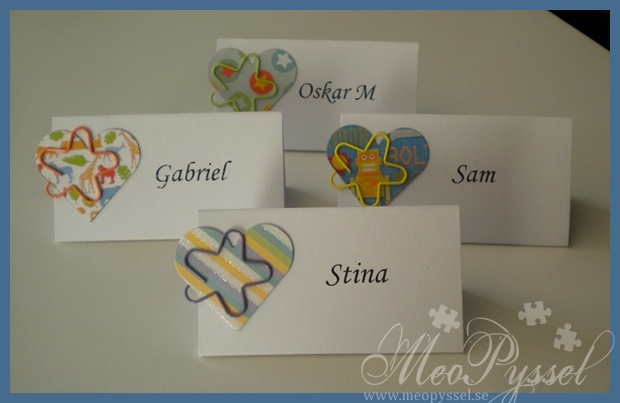 For the kids I deliberatively tried to take bright and fun colors and patterns due to the fact that I think they will see them as more fun then. I also gave them all a paper-clip that is removable so the bigger kids can play with.
Träffar: 58