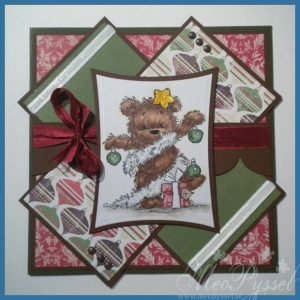 (sorry for the bad quality of the photo but due to winter it's dark and my camera  just can't handle that kind of light)
So this weekend I found the time to sit down and play with some papers. Due to Christmas closing in (and I'm totally unprepared so far) I dug out some Christmas-papers and go really inspired. I have to admit that I made this card pretty quickly and I didn't like it from the start but it really grows on me.
The papers I used is from Echo Park's collection Very Merry Christmas and I just love the nice colors, they are deep and soft at the same time – and the paper with the ornaments are just so darling. I chose the James Bear from Lili of the Valley to go with my card and i colored him with my copics. The little gift have been paperpieced with the backgroundpapers. I wanted to try to keep some parts white, I usually don't and I always regret it. So the tinsel is white and i have glittered it with some Martha Stewart glitter and I used the same glitter on the white ribbon. I used a strip of my dubbelsided tape and just glittered one side. I really like how the white glitter ties the card together and the fact that the "strips" goes in a similar angle as the tinsel. The star is first colored and then coated with yellow stickles. The ribbon is from stampin' up and i love how easy it is to tie it, i usually use satin and its really hard to get the bows to stay tied- this was easy and really looks soft.
The inside is simple with a "Merry Christmas"-greeting and some vertical strips of the ornament paper one the sides.
Another thing I have to say is that I love my new scissors! I have tried several small scissors but I don't think any have been good, they have had a to big tip, been uncomfortable and so one. I decided to try the stampin' up one and I'm truly in love! It's easy and comfortable (or as comfortable a pair of scissor can be) and they are super-sharp and are really easy to get into small areas. Just love it! I know I'm a bit over enthusiastic but I think I have to play some tomorrow also (Just found out I'll be home alone:))

Stamp: Lili of the Valley – James Bear – Deck the Halls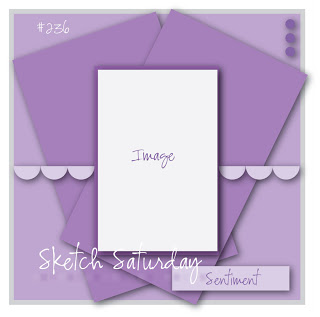 Copic: YG63, YG17, YG67, E51, E53, E57, E59, Y17, Y15, Y13, W5, W3, W1, C4, C2, C0, YR20
Paper: Echo Park – Very Merry Christmas
Other. Martha Stewart – Glitter. Stickles – yellow. Spellbinders – Nestabilities – Wonky Rectangle

Träffar: 323