So here comes my first contribution as the DT member for Sweet Stampin'. The theme for this weeks challenge is Girly but no pink allowed.
Our sponsors for this week are Pollycraft which will give a lucky winner 5 digis.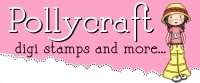 We also have our Monthly sponsor Joanna Sheen that will give a £10 gift voucher.

—————————————————————————————————————————————————–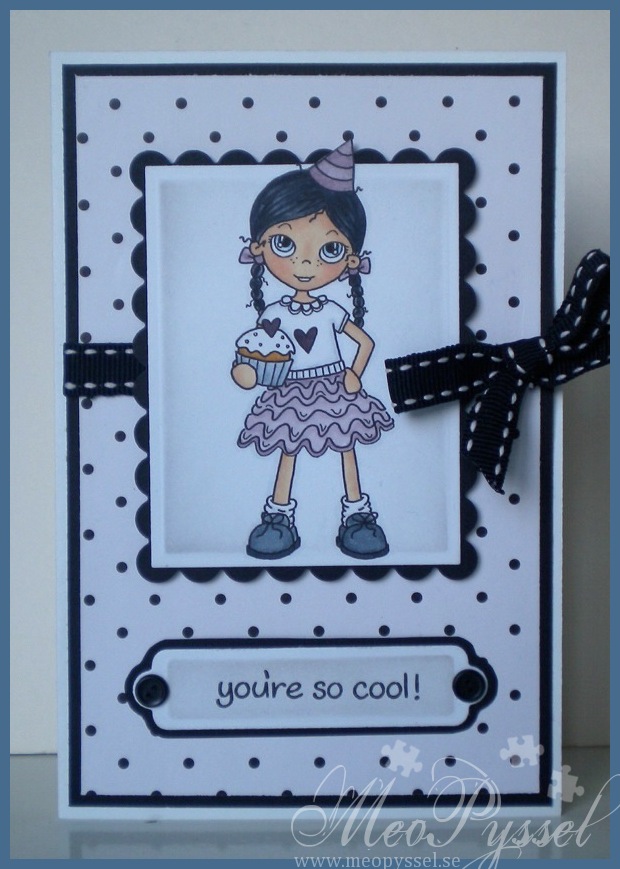 So onto my card; I usually don't use Pink but just because of the challenge everywhere I look in my stash i see pink, and i have to admit that I have been very nervous to make this card and post so the process of this card have been a very hard one.So I got this lovely digi from Pollycraft called Cupcake Party and are featuring Celeste Amberglow. I don't have a printer at home because it broke down like two (or more?) years ago so I normally print at a friends or my moms house. I think the nervousness got the better of me because the first print I didn't bring copic-paper, the second one I destroyed when i was fussy-cutting and the third one I mangled in my cuttlebug… so after those sad attempt i deiced to make a serious run so I printed the dear Celeste like 10 times so I wouldn't have to run over to our friend again and at the same time giving me some room for more mistakes (which of course i didn't do now when i had the materials for it).
First when i saw this image I really wanted to make a bright and happy card so I found my Bo Bunny Peacock Lane collection and started to color. I have to admit that The card was far to dark and everything just looked a bit off so I had to start over. Luckily for me a new flash of inspiration came this Tuesday when my big order from the USA came. I had ordered a lot of new copics and several nice dies so I decided to us as much new things as possible. The new pens I got were from the 90-seriers so I went for the V90's for the color-scheme on Celeste. I know that it's dangerously close to pink but it's purple so I think I can get away with it. To really bring out this dusty purple i deiced to go for all black and white on the card so all the other coloring (except the skin) is made with the cool grays.
I framed Celeste on my new Spellbinders Large Rectangles and Large Scalloped Rectangles and distressed the edged a bit with Weathered Wood. I then put my sentiment (which is a a tired minds wordplay on the cool grays I used and a nice sentiment for a young girls birthday) on the shapabilities double ended tags. Sense it's a 10x15cm card I didn't decorate it much but i did use soem brads and I ribbon just to give it something more. The sentiment is from Lawn Fawn's Critters in the snow stampset and I stamped it with Archival Brilliance Graphite Black.

Stamp: Pollycraft – Celeste Amberglow – Cupcake party. Lawn Fawn – Critters in the snow
Copic: E51, E21, E11, E93, 0, B91, B93, V91, V93, V95, V99, E35, YR23, C0, C2, C4, C6, C8, C10
Dies: Spellbinders – Nestabilities – Large Rectangles, Large Scalloped Rectangles. Spellbinders – Shapeabilities – Doubled ended tags.
Inks: Memento – Tuxedo Black. Distress Ink – Weathered Wood. Archival – Brilliance – Graphite Black.
Träffar: 200