So this weeks challenge for Sweet Stampin' is  "anything but square" so I thought I'd try my first round easel.
Our sponsor for this moths is Joanna Sheen that will give a £10 gift voucher.

And our weekly sponsor is Di's digis that will give a $10 voucher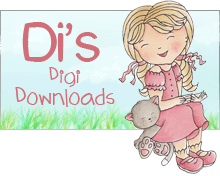 ———————————————————————————————————————————————————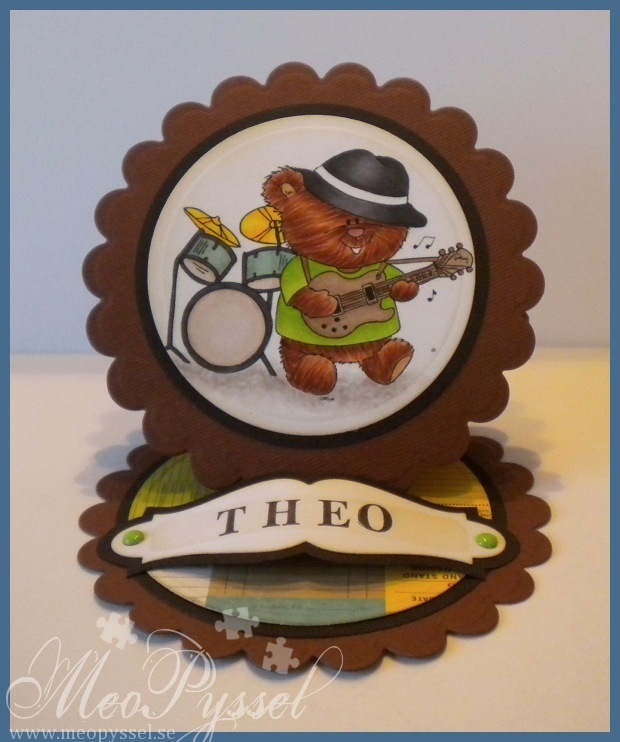 As soon as I saw this lovely image from Di's Digis i immediately thought of the Ljusteräng family, and especially Andreas. Andreas is a musician and will among other things play on my wedding. His son and my godson Theo will probably grow up to be one too and I though that this bear would be so cute for Theo.
I'm really happy with how the coloring of the fur turned out. I went for a longhaired bear and it really turned out good. I'm not very happy with the drums but i honestly have no idea how to make it work. The white of the hat is not colored because i forgot it until i took the photo. I looks really good but I will probably shade it a bit with E40, E41 if I find the time this weekend. The edges of the circle (and the nameplate) is distressed with Antique Linen.
The paper on the bottom part is from Echo Park's collection This &That: Charming and I did use that paper as inspiration when I colored. The nameplate is made with one of Spellbinder's Grommet Tags. The name Theo is stamped with some clearstamp letters i had from an Exchangeable Clearstamper-sets featuring Baby-things and the brads are from Paperwishes. The nameplate is not fastened with any foam-dots or other adhesive or anything dimensional, it's keeping up due to the fact that the brads is closer together then they "should".

Stamp: Di's Digis – Gibson Bear. Exchangeable Clearstamper – Baby
Paper: Echo Park – This and that – Charming
Copic: E04, BG11, BG32, YG21, YG23, YG25, Y13, Y15, Y17, E40, E41, E43, E31, E33, E35, E37, E39, E57, 0, N3, N5, N7, N9, W1, W3, W5, 0
Other: Spellbinders – Nestabilities – Large Scallop Circle, Large and Small Circle. Spellbinders – Shapeabilities – Grommet tags. Distress Ink- Antique Linen.
Träffar: 203