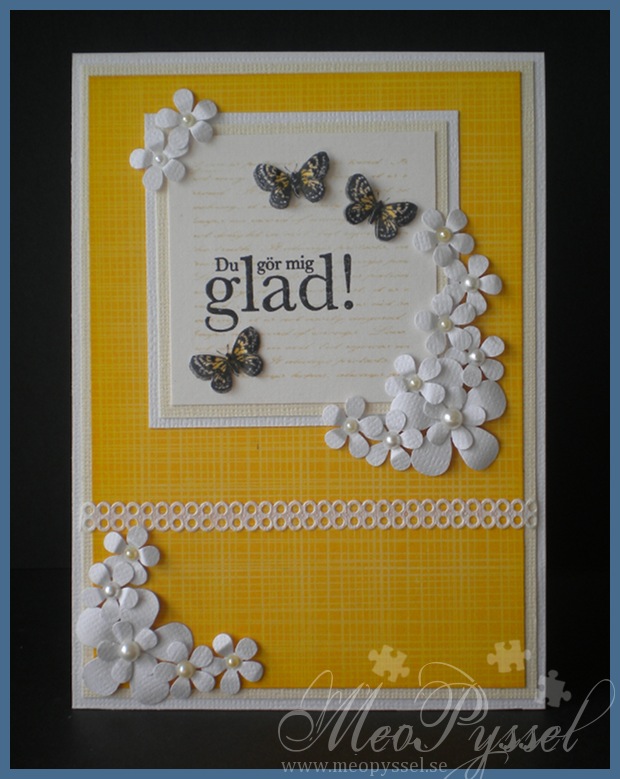 So i found myself with more time so i did yet another card, this time not meant for a kid, but everything works.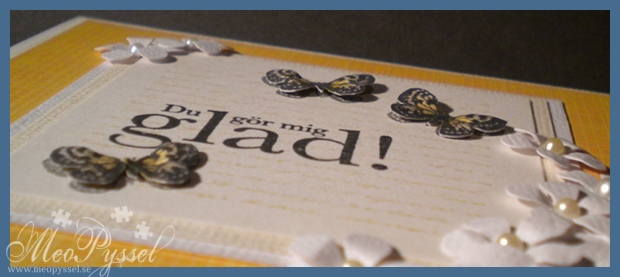 I wanted to try the technique were you stamp the image twice, cut out one and put it over the first for a more dimensional look. The main image here is made by three different stamps (see the details on the first picture to the right). The scripted background is from Gina K.'s Timeless textures, the sentiment is from Vilda Stamps and the butterfly that is Inkido's small summer butterfly. The Script has been stamped with Antique Linen distress ink and the butterflies with memento black. The butterfly on the paper was first stamped on another paper so i got a lighter colors as "shadow", but the cutout one is stamped as normal. The butterflies have then been colored with Promarkers Gold and Pastel yellow, then blended out to the edges. The butterflies have been put to the paper with half a glue dot, but i think i have to come up with a new way when it was very hard on such a small contact-surface, on the body of the butterflies and the wings have been bent up a bit.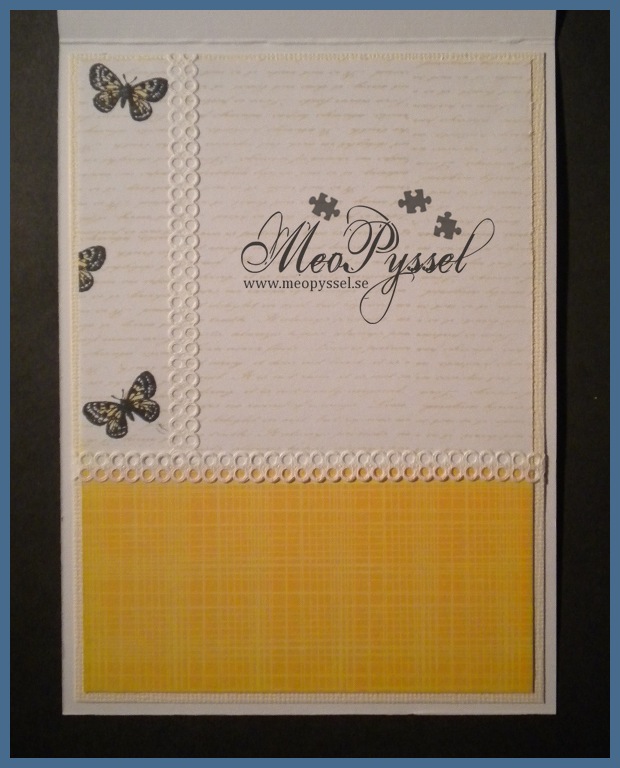 The paper is from Echo Park's 6×6″ paperpack A Walk in the Park and the lace is a self-adhesive paperlace from Panduro. The Flowers are made by EK Success punches flower power and retro flower medium. In the center of every flower there is a pearl, both white and soft yellow. (realized half way through that I'm out of white ones).
I tried to keep the inside on the same theme by using the same papers and stamps, the greeting is the only one that ain't there. On the inside I only stamped the butterflies once, on the paper. I stamped the scripted background here also when i think that i just gove a softer look and won't disturb the writing the gifter will put in.
I got inspired but this weeks Mix it up Monday challenge from Gina K: Wear your white.
Träffar: 73