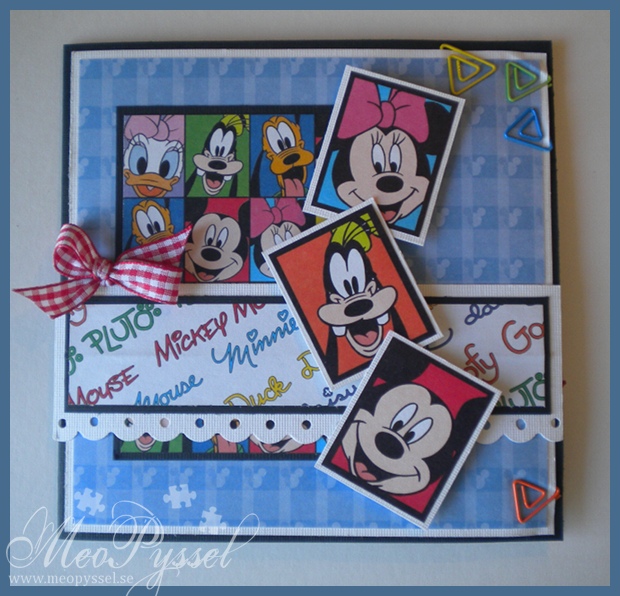 This card is also for a kid as seen, or someone that really likes Disney.I have to apologize for the photos but it was very hard to take a good photo when this card has a lot of dimension and are a but bulky, especially around the paperclips.
All the papers, including the ones i used as center images, are from a paper pack called Making Disney Scrapbook Pages that i got from Paperwishes, and this paperpack should be an official disneyproduct. When i first got the paperpack i was very disappointed. At the webisode i saw about it the pack looked filled with the Junglebook, little mermaid and so on but it contains more then half of Winnie the Pooh, which i don't like, and almost only half-pages of the ones i wanted. But in this card i think i succeeded to create a nice card with it.
I have framed all papers with black or white or both to get the cartoon-feeling. The with border is made by Fiskars Scalloped borderpunch. The bow is made with my handmade bow-easy and the paperclips i think came from a set of embellishments from Paperwishes, but i can't promise.
I tried to keep the theme going on the inside, this time i cut the images out from the paper i used as background on the front of the card. Same ribbon and kind of paperclips are used here.
Challenges:
Lili of the Valley – #100 Anything Goes
Gina K. designs– Free for all – Friday – Recipe Time

2 Embellishments
3 Images
4 Colors (of paper and/or dp)
5+ layers (minimum of 5 layers but can be more)
Träffar: 171