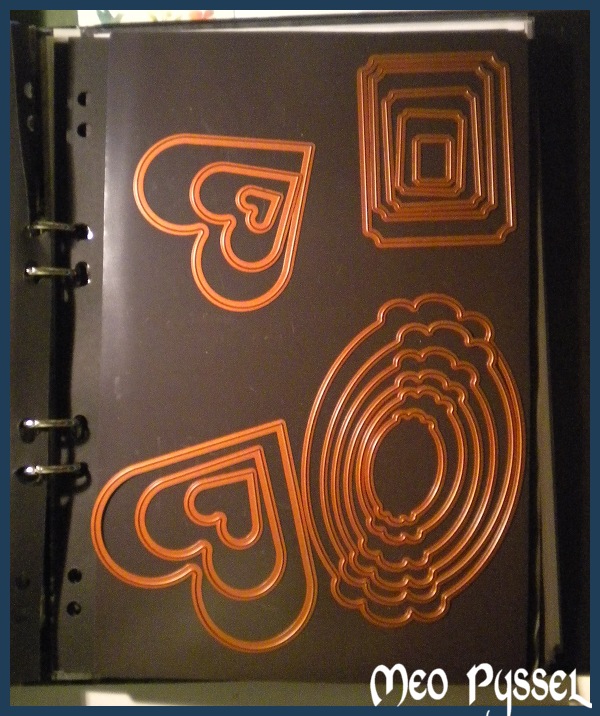 When I'm making my cards and whatnots i have realized that i always uses at least one nestabilities and that it is a problem right now when my way of storing them aren't working with having them on my desk at all times. RI have been storing them inside a folder with all my dies. The nestabilities is put on a magnetic sheet that is glued to a paper. At the same kind of magnetic sheet i have my Quickutz Fashiondoll, the alphabet and so on. I decided not to relay on magnetic tape for my folderstorage because i think that the tape is to bendeble and the nestabilities then falls of (tape is good for a hard surface). My cuttlebug dies i store in plastic sheets for trading cards, very cheep in any bookstore, you can see the different storage-ways on the pictures to the right (click for larger pictures).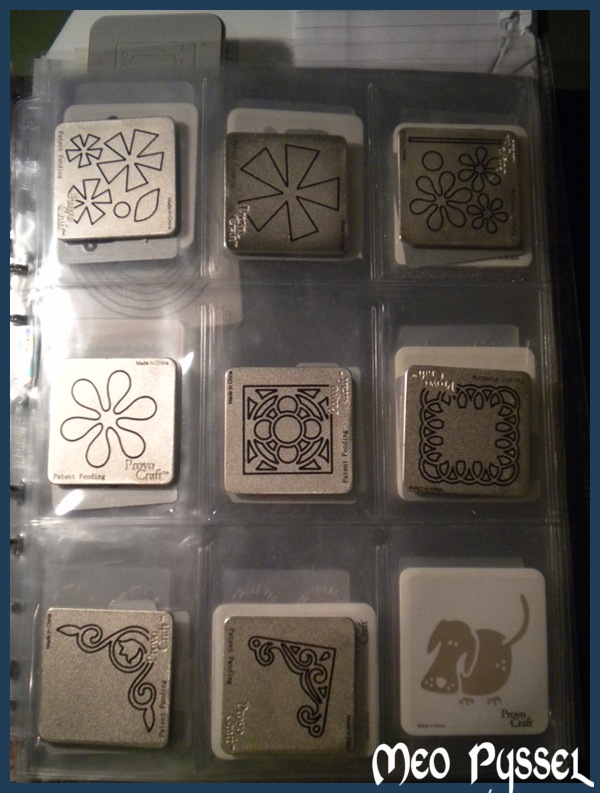 I have been thinking of put a hook into my wall to put the most used nestabilities but i my lovely boyfriend made me realize that i would go insane when i couldn't get the smaller on out without removing the larger. After a while i decided to keep on with the magnetic so i put up some strips of magnetic tape. I have chosen to only put up the ones i use the most, the rest will stay in the folder.
I'm really happy with having these nestabilities so close and as i finished a inside for a card i enjoyed the space on my desk!
—————————————–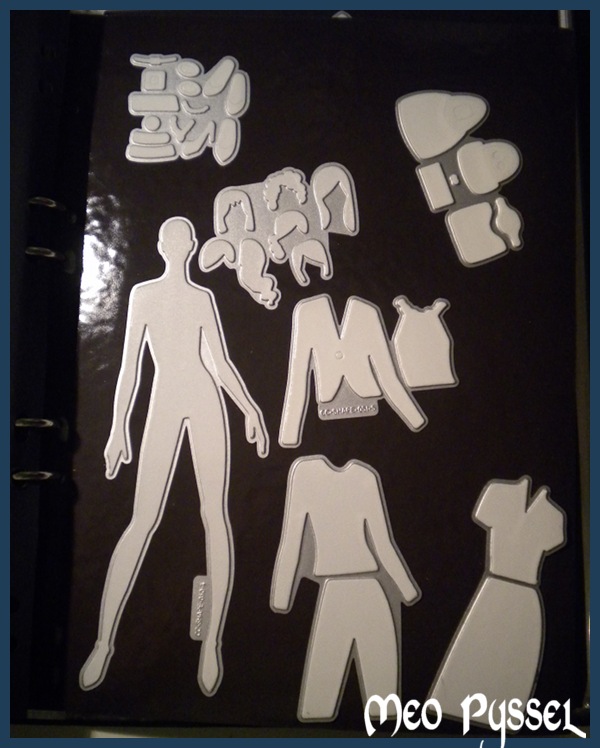 Jag har efter mycket om och men insett att min pärm med dies alltid ligger framme på mitt skrivbord eftersom att jag alltid anväder någon sorts die när jag pysslar. Meningen från början var att få undan mina dies från bordet genom att ha dem i en pärm. Jag förvarade mina nestabilities på magnetiska ark och mina mindre dies i plastfickor för samlarkort (finns på alla bokhandlar men jag har köper mina på Bokus då de är billigast). (klicka på de små bilderna till höger för att se hur jag förvarar i min pärm)
Eftersom att jag inte vill ha pärmen framme hela tiden så har jag funderat på alternativa lösningar. Jag började med fundera på vilka dies som jag använder mest och tänker försöka ha just de tillgängliga medan de mindre använda får stanna i pärmen. Nästa steg var att komma fram till hur de mest använda diesen skulle få plats vid bordet. Jag funderade länge på en krok där jag helt enkelt kunde hänga upp dem men min kära sambo påpekade att jag skulle bli vansinnig när jag måste flytta de större för att kunna ta fram de mindre så den idén kasserades. Tillslut bestämde jag min för att strunta i eventuella skador på tapeten och sätta upp remsor med magnetisk tejp på väggen och på det sättet fästa mina nestabilities. Jag har inte använt tejp i min pärm eftersom att tejp på ett pappersark är böjligt och när man vänder blad så ramlar nestabilities diesen av men på ett hårt underlag såsom min väggfungerar tejp utmärkt.
Jag är grymt nöjd med mina nya lösning och det känns bra att ha mina vanligast dies inom räckhåll.