So this is a card that i made for my own pleasure on this long awaited weekend of no stress, school or other commitments.
I have wanted to make this card for a long time. The beautiful Treasure Tempestwind and her companion Eddy arrived in my mailbox for  probably a month ago or longer and i have wanted to play with her for a long time, she is from CC designs Sweet November collection. I knew i wanted to pair her up with the Barefoot Bliss papers from Bo Bunny due to its sea-theme. When i showed my mom the front paper, the one with the fishes she just loved it and when she is an aquarium-nut it's just a perfect way to show how much i do appreciate her and her support.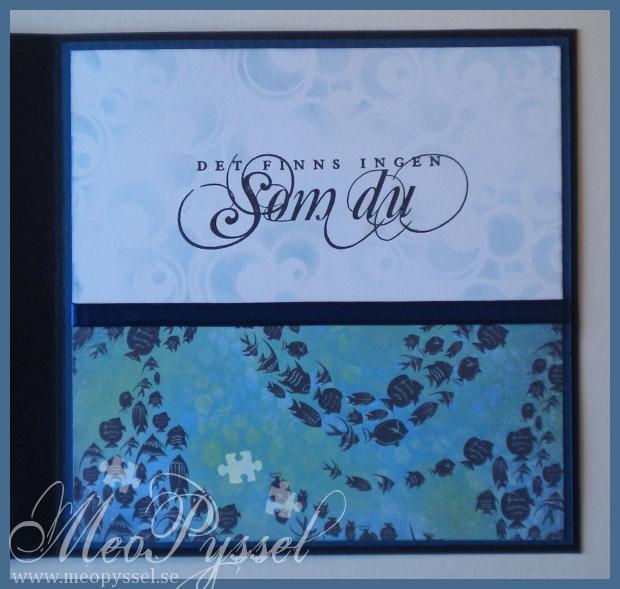 So… The papers that is used is from Bo Bunny's Barefoot Bliss collection and i just love the bright shadow-fish that shows on the horizontal strip to the left. All the papers edges have been distressed with faded jeans. The backing for Treasure tempestwind and the tag is made by spellbinders nestabilities and I also used the circle impressabilities and embossed the white oval. I also used it in the inside as a stencil when i distressed some parts lightly with more faded jeans.
Both Treasure Tempestwind and Eddy have been colored with copics, and 'm just so happy with how Eddy and Treasure Tempestwind's hair turned out!I stared out with B91, B93, B95 and B97 for the hair but wanted more contrast and darkness so i added some B18 and N7, N5- but still keeping the light parts in B97. I really like the black/blue feel of the hair and the shadowing, but i have to practice more on the lower part of the hair.
I watched Amy Young's videos (find her youtube channel here) on marmaid-tail when i made this and really wanted to make a soft dotted one. Now as an afterthought i wish i would have made the shadows darker to create a better contrast, but that will have to be for next time.
The sentiment on the front is from Reprint and says "Hugs" and the inside is from Arkivet (that sadly closed down this week) that says "There is nobody like you". Tempest and the sentiment have been decorated with light blue brads and light blue rhinestones. The ribbon is a usual satin ribbon from Panduro.

Copic: 0. Skin E11, E21, E51, E00, E93+R20, R22. Top and tail: Y17, Y08, N4, B97- YG11, YG13, BG13, B21, B41, B24, B97. Hair: B91, B93, B95, B97,  B18, N7, N5. Eddy: N7, N5, N3, N1, E93
Stamps: Sweet November's Treasure Tempestwind and Eddy. Reprint's text-set. Arkivet's "Det finns ingen som du"
Papers: Bo Bunny's Barefoot Bliss
Dies: Spellbinder's Classic Large Oval and Scalloped oval, Ribbon tags trio and Impressabilities Circles.
Träffar: 74