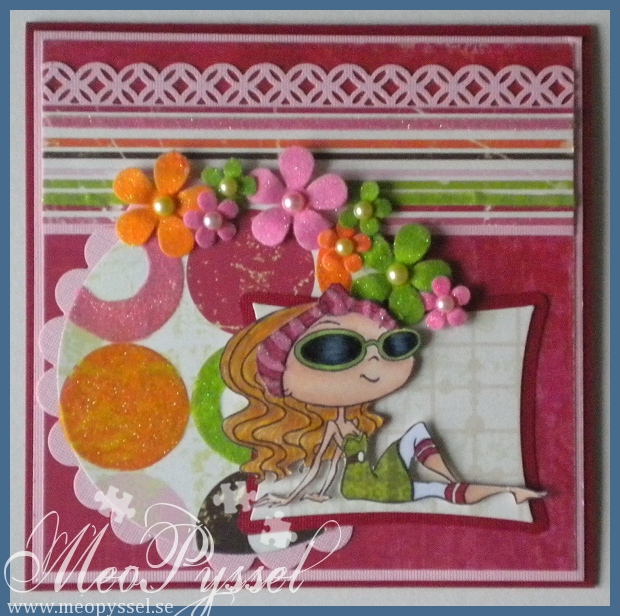 Here comes a card I've been working on the last couple of weeks. It's an order for a friend of my moms and it's for a birthday girl turning 10. The criteria was to use Kraftin' Kimmie's Florence and make it sparkle.
I started out doing this card for like two weeks ago and didn't finish it until yesterday. Every time i go past my craft-corner i get drawn in by all my wedding inventions that needs some attention so it have been hard focusing on this card. I started out bu choosing this papers from Bo Bunny's collection Vicki B, i love the vibrant colors and i think they would be super for a little girl. From that i colored and paper pieced her. So for a week ago or something i stared to think about the layout and fortunately for me Kraftin Kimme's Challenge blog had a sketch up that i liked so i used it. Unfortunate for me when i entered the blog yesterday it seems a week have passed and a new challenge has begun. And happily for me it turned out that this weeks challenge is paper piecing so i can enter it anyway, whoho!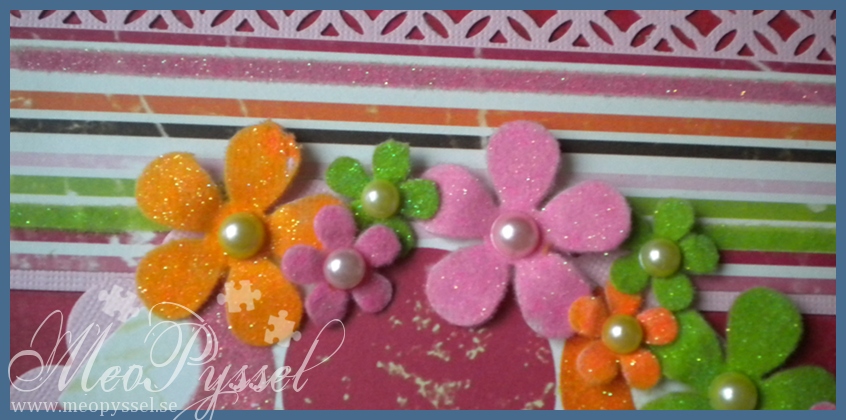 To add the glittery part of the card and to make some texture i used a lot of soft, glittery flocking from You Do. On the striped paper i made one green and one pink stripe flocked and on the paper with the circles i flocked all the circles that were pink, orange and green, to match the flocking i choose. I also added the pink flocking on the headband on Florence. As a last step i punched some flowers with EK Success' Retro flower and flower power punch and flocked them in different colors. I thought the flocking was thick enough to cover what ever cardstock i used, but it wasn't really true so i ended up remaking it with green, orange and pink cardstock to make a better coverage. I tried to take another photo of the flowers to show the nice shine and fussyness.
Stamp: Kraftin Kimmie's Florence
Copics: YG13, YG17, Y17, Y21, R39, C0, C2, C6, C8, C10, 0, E21, E51, E11, E35
Papers: Bo Bunny's collection
Dies and punches: Spellbinders Circle, scalloped circle and woky rectangles. Martha Stewart's border punch Modern Garland. EK Success's Retro Flower (medium) and Flower Power Punch.
Other: You Do's flocking, Glossy Accent and some pearls.

Simon Says Stamp – Anything Goes
Kraftin Kimmies Stamps – #98 Paper Piecing
Träffar: 208