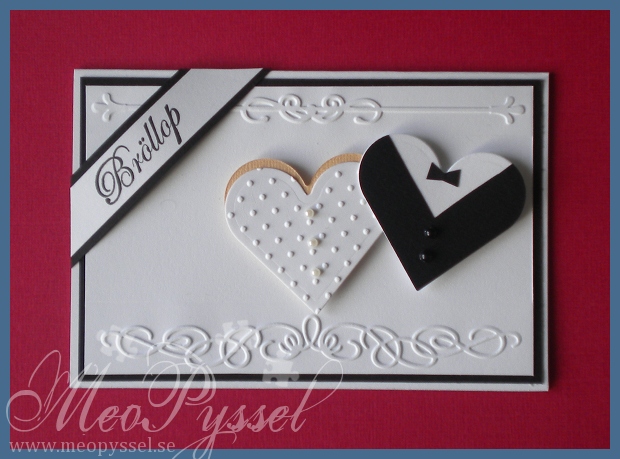 So i have finally finished wedding-invitations. I did finish them last weekend but it took me a while to package them and then get a photo.
The basic feeling, and layout is taken from Dawn from Stampin' Up that made a very similar card. I kept the parts i could and changed some. You can see Dawn's card here.
The embossed parts is from from two different small embossingfolders from Provocraft. The top one is from the Iron Works set and the bottom one is from the Organic flourish set. I also used the provocrafts Swiss dot embossingfolder for the "weddingdress".
The weddingdress is made by a skintoned heart and a white, embossed oneand finaly it's decorated with three pearls, small or medium in white or pale blue. The jacket is made by a white heart and then a back on top, and the black ons has a triangle cut out from the top to make the jacket-shape. Finally it was decorated with 2 small or medium pearls and a small bowtie. On the picture you see a card with the small pearls.
The stamp is from You Do's wedding set and it says "wedding" in swedish

Dies and folders: Spellbinder's Heart nestabilities, Provocraft's Swiss dots, Iron Works and Organic Flourishes
Stamp: You Do's Bröllop (Wedding)
Träffar: 66