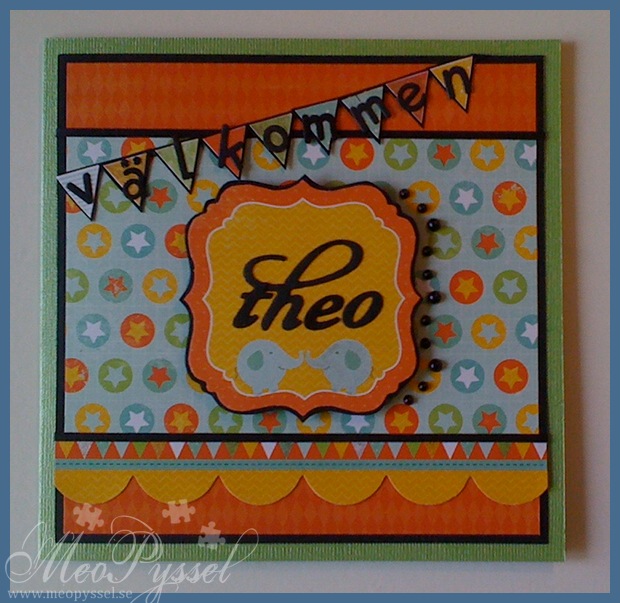 This card is a celebration for my best friends new baby boy Theodor. He was born on the 12th of august and i can't wait to see him!
Earlier in the week is was by CiLi in Papers and bought some of the new Bo Bunny paper packs and my eyes fell on the Kaiser Kraft's Party Animals paper pack and i couldn't leave without it. I fell in love with the colors and that you can make any kids card with it without a problem. I have been thinking of making a card for little Theo for a while so i deiced that the Party Animal paper were perfect for it.
I used this weeks Simon Says Stamp challenge for the layout.
I used some regular black adhesive pearls for the embellishments on the right side of the focal and some glitter pen on some on the banners, one of the elephants and some of the small banners on the border. The banner with holds the sentiment "välkommen" (welcome in Swedish) is made by cutting out some small banners on a banner-paper in the collection and then gluing it on a black mat and adding the letters. The letters used in the banner is from Provocraft's Baby face alphabet and the letters on the focal is from Quickutz's Harvest alphabet. The backing on the "Theo" is from the die-cut-sheet and it's backed on black as well.
There is only a photo of the front today when my camera have gone into hiding and i can't find it anywhere so this picture is taking with my phone.
papers: Kaiser Kraft's Party Animals
dies: Provocraft's Baby face alphabet and Quickutz harvest alphabet

Träffar: 111