I have for a while wanted a Bow Easy but i think that the hassle with ordering it from UK or USA is to much for such a little thing so I have been googeling it so I could finding a picture with its measurements. I found a couple so I just made my own from a piece of think cardstock (the backing from a paperpad i have). I also made a drawing of the measurements i ended up using so i hope that it can help all you out there that, like me, wanna make your own. The important thing to remember when doing your own is that the block needs to be same size so the bows sides will be even.  I used my beautiful Bow Ewasy to make my first nice dubblebow so I'm as happy i can be. My bow-easy is a bit too thin but it's still working well. For the next time I make it I think I'll need to use a thinker cardstock or maybe chipboard.

Jag har under några månader funderat på att köpa en Bow Easy men på grund av frakt, besvär och "inte i lager" har jag int eköpt den och jag har funderat över hur vida jag kan göra en själv. Jag googlade bowEasy och fick fram ett par bilder som hade måtten utskriva (i inches) och har efter det gjort en egen ritning i cm som jag sedan gjort från en bit tjock kartong som var baksida på ett av mina pappersblock. Jag är mycket nöjd med hur det blev och jag lyckades just knyta min första dubbelrosett så jag är lycklig. Jag har även gjort en ritning med de mått som jag använt för den som vill göra ett försök på en egen. det viktiga att tänka på närman gör en egen är att komma ihåg att blocken skall vara lika stora för att få lika stora sidor på rosetterna.
Detta är även bra nyheter för min sambo som i vanliga fall brukar stå för fingrarna som jag knyter mina rosetter om.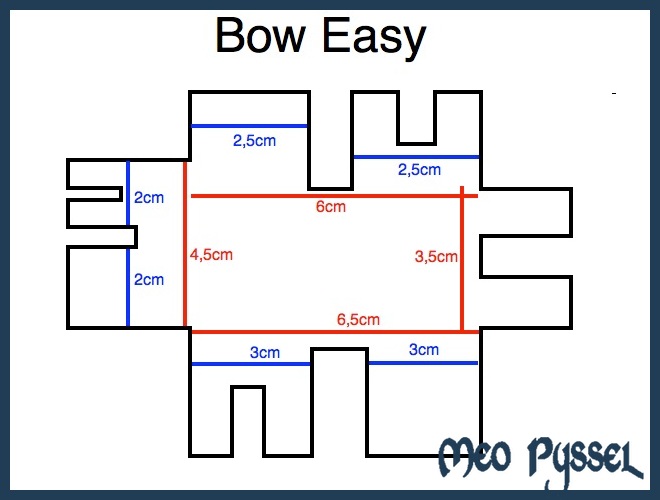 Hits: 260