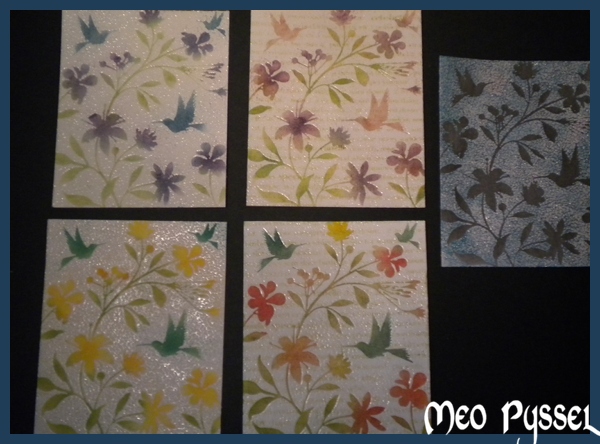 I'm playing around with my Hero Arts stamp Flower Bird Garden. I first saw the stamp and this way of handling it on ScrapTime's podcast episode 602, but you can also see it on Christine's Blogg here.
I really like the effekt that she got when she used the letter-background so i made two like that and two with a plain background. All the sample has been colored with distress by using a sponge. I saw that Jennifer McGuire used the same technique but that she filled in some of the spots with white to get rid of the cracks that you can see on my ones. I do like the more rustic appearance i keep the cracks visible.I did take a wet que-tip for the areas that were the cracks were many and that had a lot of color just t tone it down but without removing all the ink (see the picture to the right). In the cases were i used the letter-background i did use Hero Arts stamp Happy definitions. I think that the letter ones has a softness to them that is really appealing.

Colorcombinations:
Top-left: Leafs are peeled paint with shabby shutters on top, flowers are faded Jeans with Dusty Concord on top and the hummingbird are Dusty Concord, Pine Needles that have a coat of Faded Jeans on top.
Bottom-left: Leafs are shabby shutters and Peeled paint on top. The flowers are Mustard Seed and Spiced Marmelade mix together and the humingbirds are Pine Needles with a bit of peeled Paint to light it up.
Top-right: The letters are stamped with Shabby Shutters. The leafs are Shabby Shutters with Peeled Paint on top, the flowers are worn Lipstick with a think coat of Dusty Concord on top and the Worn Lipstick Again, some of the flowers got a touch of faded jeans also. And lastly the hummingbirds are tattered Rose and some of the greens that spilled over when coloring the greenery.
Bottom-right: Leafs are Shabby Shutters with Peeled paint on top, the flowers are all diffrent with combinations of Mustard Seed, Worn Lipstick, Spiced Marmelade and Peeled Pant. The hummingbords are Pine Needles with a lot of Peeled Paint as shadowing.
The middle right: On this one i first distress the background-paper with Broken China and then clearembossed the image and distressed it with Black Soot.

Träffar: 65