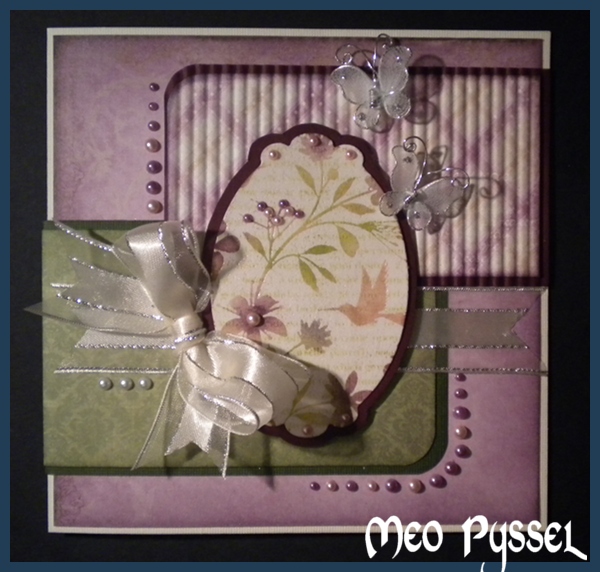 This card is made with one of todays experiments with Hero Arts stamp Flower Bird Garden and the emboss resist technique. The papers that is used is from Maja Design's collection "Ska vi ta en fika?" (translates to "wanna take a coffe?").  The bow is tide with my homemade Bow Easy (there is a post with a template for those who are interested) and the butterflies are stocking butterflies bought at a fabric shop. The image is cut with nestabilities Labels 10 and the frame is created by me tracing around the die i cut with to make a smaller frame then taking the next sized die. The top horisontal paper is run through a currugator. All the papers have been distressed with either Dusty Concord or Peeled Paint.
The image is made by stamping the Hero Arts stamp Happy definitions with Shabby Shutters on a piece of paper and then clear-emboss Hero Arts stamp Flower Bird Garden onto the paper (make sure the letters are dry when in my case the distress ink stays wet for a while and therefore might take on embossing-powder on places were it wasn't intended). Then I spongened (and something by take the foam-piece of the blending-tool) colored in the open spaces with Shabby Shutters, Peeled Paint, Faded Jeans, Dusty Concord, Worn Lipstick and Tattered Rose.
I'm entering this card for two challenges also, the first is Lily of the Valley Challenges (#90) and the second is The Sweet Stop (SSS102). The first one is simple a Spring Challenge and the second is a sketch.

———————————————————-
Idag har jag gjort ett kort med en av de bitarna som jag lekte med tidigare idag med stämpeln Flower Bird Garden från Hero Arts. Alla papper på kortet är från Maja Designs kollektion Ska vi ta en fika?. Den översta horistontella biten är körd genom min papper korrugator och alla använda papper är distressade med antingen Peeled Paint eller Dusty Concord. Rosetten är knuten med hjälp av min nya fina handgjorda Bow Easy (Det finns ett inlägg med en mall för den som vill göra en egen). Motivet är skapat genom att jag använde nestabilities Labels 10 och stansade ut formen och sedan ritade runt dien så att jag kunde klippa ut en som passade som ram runt, på det sättet får jag en ram som passar runt motivet och jag får en som är mindre än nästa storlek på die.
Jag började med att skapa motivet genom att stämpla Hero Arts Happy definitions med Shappby Shutters och sedan embossade Hero Arts Flower Bird Garden med klart embossingpulver på detta. Jag färglade sedan motivet med hjälp en en svamp och distressfärger. Det här motivet är färglagt med Shabby Shutters, Peeled Paint, Faded Jeans, Dusty Concord, Worn Lipstick och Tattered Rose.
Jag är med i två olika utmaningar med det här kortet den första är Lily of the Valley Challenges (#90) och den andra är The Sweet Stop (SSS102). Den första är helt enkelt en utmaning med temat vår och den andra är en layout.
Träffar: 153