So i wanted to do my first shakercard for this blog. I did one long before the blog started but let's just say that it was in the begining and every time i see it on my mothers shelf i wish she would take it down.
So i wanted to use one of my favorite stamps: Magnolia's Star Tilda.I did color this one a while ago and i found Bo Bunny's Midnight Frost to suit her well, so i kept going. And if you know me I'm crazy for blue so it got the be a very blue card with hints of white. On the scrapmeeting a while back i stamped some background that my friend Linda had so i deiced that one of them would be in the shaker. I colored it lightly with lots of gray and blender pen so it wouldn't take to much of the focus away from Star Tilda. The shaker is is made by oval and scalloped oval nestabilities. The plastic is from an nestabilitiepackage and the filling is white flocking from You Do. As an after thought i think that card would have looked better white the scalloped edge white and the flocking should have been handled more, now when you hake the card the flocking has a tendency to clump a bit.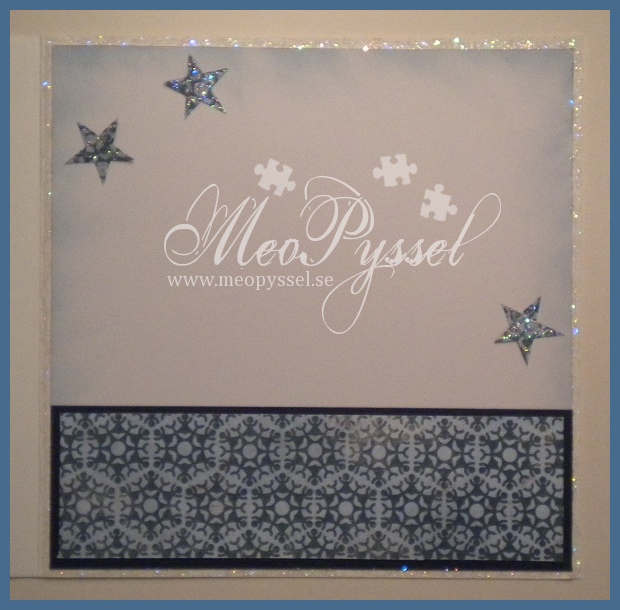 The stars and letters have been cut from a white (with small blue lines) paper from the collection. The letters are die cut with a Double Do alphabet and the stars i stamped with a stamp i had (on the backside of the paper) and the cut by hand. Both the letters and the stars have been covered with stardust stickles. The rest of the card and the star Tilda holds is also coated with stardust. The ribbon is a white dotted organza ribbon.
Stamp: Magnolia – Star Tilda an Welcome to a Sweet Christmas.
Copic: E31, E33. E35. E37, E39, B45, B21, B00, E00, E21, E51, E11, 0, E43, E41, C2, C4, Y19, Y15, Y21, R39, E40, E41, BV13, BV04, B91, B93, YG17, YG67, E31, E33, E35
Paper: Bo Bunny – Midnight Frost
Other: White Gelly Roll-pen, Stardust Stickles. Spellbinders – Nestabilities- Oval and Scalloped Oval. Double Do – Alphabet. You Do – white flocking

Träffar: 143