Here comes some of my weeks from the beginning of 2014.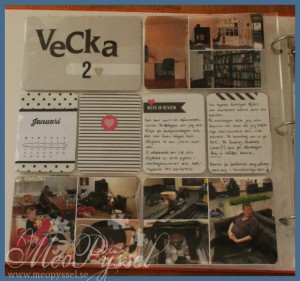 Week 2: I have used the Midnight Core kit from Becky Higgins and i have tried my first real decorating using the Simple stories Baby girl stickers. I just love the midnight kit- its so easy to use and are one of the few collections I think make dull winter-images flattering. I have decided to make a weekly calendar-card to show of the date of the days in that specific week. The calenders are an freebee from one of the nice girls in the Project Life Sweden group on facebook which I then adhere to some of the cards in the kit I use for that specific week. I love that it brings all the weeks together and that the dates are visually shown.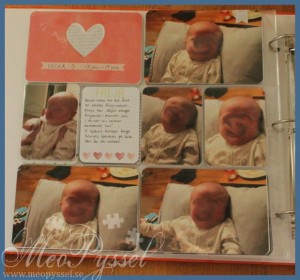 Week 3: This month-card did i show in a post a long time ago, when i actually made it. You can find it here. I love that soft colors of Neapolitan but rarely have photos I think are suitable for it but this week I had a lot pf photos with Freja's blanket so I could finally use some of them:).  The decorations on this week is my own doodles- but I did decorate, that two weeks in a row maybe I'm getting the hang of that.
Week 4: This week I used some of the cards I got from my Studio monthly-subscription. I have had a hard time using my subscriptions because I'm really bad at matching cards by myself (thank god for core-kits) but I made a try and it turned out really good if I may say so. The decorations are from Simple Stories Baby girl stickers and as an afterthought I really do hate the flower on the right side but I have to move on and not obsess.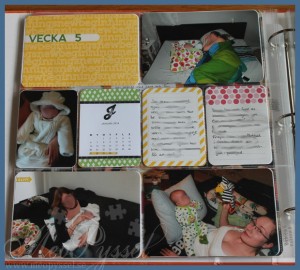 Week 5: This week I used the baby for her mini kit from Becky Higgins and the few decorations i used are yet again from SS baby girl stickers. The letters on my titelcard is from Jillibean Soup and I just love the font and all their colors so I just bought all the ones I could find on Cili in papers.  This week I tried to get less people photos and more everyday life-photos which means i get one like that:) But it's progress…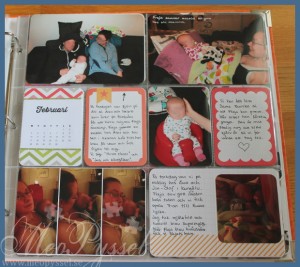 Week 6: One again I used the Jillibean letters combined with the Honey core kit. I made this spread on one of our monthly PL-meetings here in Gothenburg. Due to all the good influence, especially from Anna, so I dared try something new: I cut my photos a bit. So i trimmed down two photos and matted them on a 4×6 and could then get some journaling done. I loved how the one on the left page turned out and really did like the one on the right, but you win some and lose some. I think I'll try this more often:)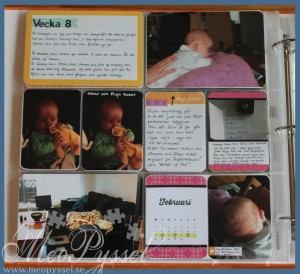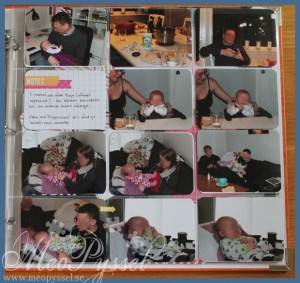 Week 7-8: I used the Journal themed cards from Becky Higgins and I just love the bright colors. There are not many cards in this pack but I have used almost everyone which is a bit unusual for me, I'm more of a hoarder then user:)
Core kits: Becky Higgins: Midnight, Neapolitan, Baby for her mini kit, Honey, Journal Themed. Studio Callico: monthly kit.
Decorations: Simple Stories: Baby Girl Stickers. Jillibean Soup stickers.
Träffar: 66