Here comes some of  my spreads from 2013, i did these spreads by events and not weeks.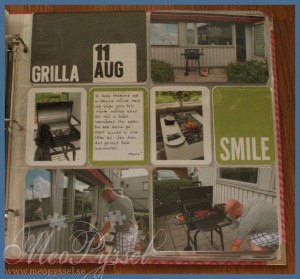 This is the premiere of our barbecue, I used the slate core kit and some Lawn Fawn dies for my titelcard.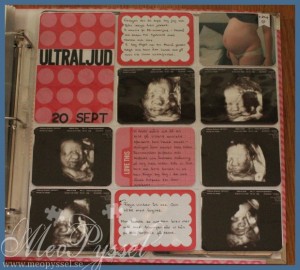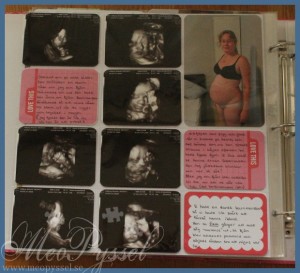 This is from our 3D-ultrasonic of our babygirl. On the first Ultrasonic I used the red cards from Becky Higgins Honey so I did the same here so it would be cohesive. The images was printed at the clinic so I did use the originals (I do of course have a digital copy as well). The prints were were thin and flimsy so i adhered them to some black cardstock and then cut them with my Becky Higgins die.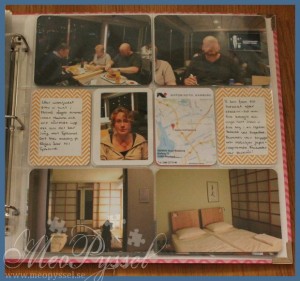 This spread if from a weekend-trip to Germany, the spread is very simple but I really like the map (from google I think) that shows the hotel's location.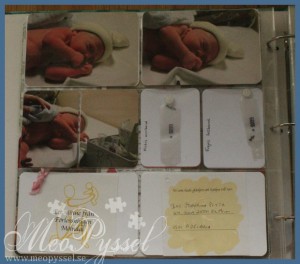 This one is from my daughters birth and I have included all the thing we got at the hospital. I have to admitt that I was a bit tiered when doing these weeks so there isn't any decorations at all, and I'm not that decorate much to begin with. But I have plans to get back and ad some colors and maybe some decorations later on, especially to the bracelet-pockets which looks a bite bare right now. But it still makes me all warm and fuzzy looking the the bracelets and the little welcome that they left at the breakfast-tray (she is born at 8 in the morning).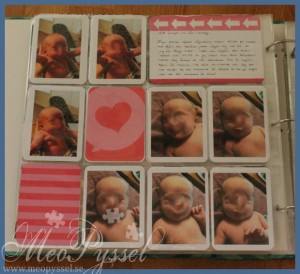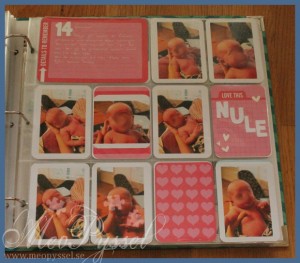 As a first-time mother I have of course taken far to many photos of my trolls funny faces (and sleeping-habits) but sometimes they just end up as a really fun sequence and then I wanna get all photos in the spread.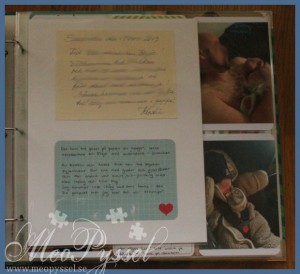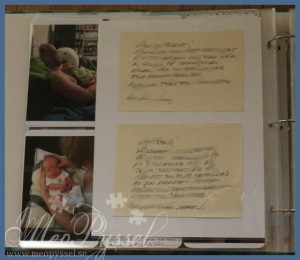 When Freja was born she got three big packages in the mail with clothing and letters from my grandparents. The letter were so sweet and just like my grandparents in all ways to I saved them and just put them in some bigger pages. There were three letters so I did put in one 4×6 card were I wrote were and when the pages came and whar was happening in our life at that time.
So this was the last ones from 2013, hope you enjoyed it a bit.

Kits:Becky Higgings: Slate, Becky Higgings: Honey
Dies: Lawn Fawn: Coles ABC's, Quinns 123's. Becky Higgins' – Die set Project Life.
Träffar: 89