This easter have just been so wonderful. The weather have been warm and sunny all day so we have been out having lots of fun. A walk in the park, barbecue and just a couple of walks. Unfortunately we wasn't really prepared baby-wise. We soon realized that Freja only have winter-hats. Due to all shops being closed for easter I started to Google pattern for sun-hats. I found this tutorial and pattern from Bethany.
It was really easy to follow (I didn't cut and sew the straps, instead I breaded some yarn. I think that a strap that you can tie is better so it can be adjusted for size and occasion) and the hat is just so cute… but to small for my daughter. The hat I made from Bathany's pattern is approximately 38cm in diameter (my daughter has 43).
After another search I found someone saying that the hat-part should have the length of 1/3 of the diameter you want. So I copied the pattern from Bathany and resized it in Word. My base is now 14cm instead of 11cm, and my bring has an inner diameter of 17 cm (calculated after the hat-part was done s that the brim would be the exact length I needed. This one is slightly to big for my daughter, but in the good way. She can probably have it for a month or two and it's still good for now. On the second one I then attached a ribbon to ad some interest. On the picture below you can see the difference in size.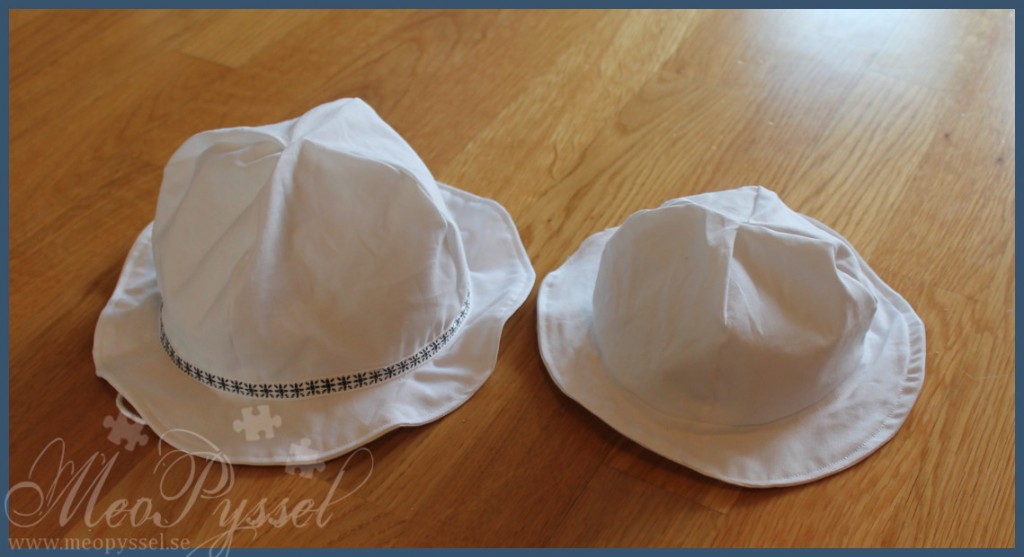 Träffar: 54