Freja is now old enough to get some food, but that also means she is old enough to get food all over. We bought a babybjörn-bib but it's to firm and she is to short so it gets uncomfortable for her, so I have been looking around for some soft bibs and didn't find any. Or at least not any for a price I'm willing to pay. Then I decided to see if I could find some patterns online and make my own. I found a couple of ones but I really liked the one from Linda at Craftaholic anonymous, and I have used her Infant one for all the three bibs here (The infant and the toddler pattern is the same around the neckline and just differ on the length).
I started out with doing the green one and for that one I followed that pattern. The green is vaxed fabric and the black is regular cotton liner. The neckline is a perfect fit for my daughter so I fear that it will be to small soon so for the next one I altered the neckline. I really do like the pattern, the shape and length is perfect and I like that the pattern isn't handmade. It's easy to trace and is symmetrical. The green bib have been used and cleaned before this picture and are therefore a bit wrinkly, which doesn't bother me (same with the pink and white one).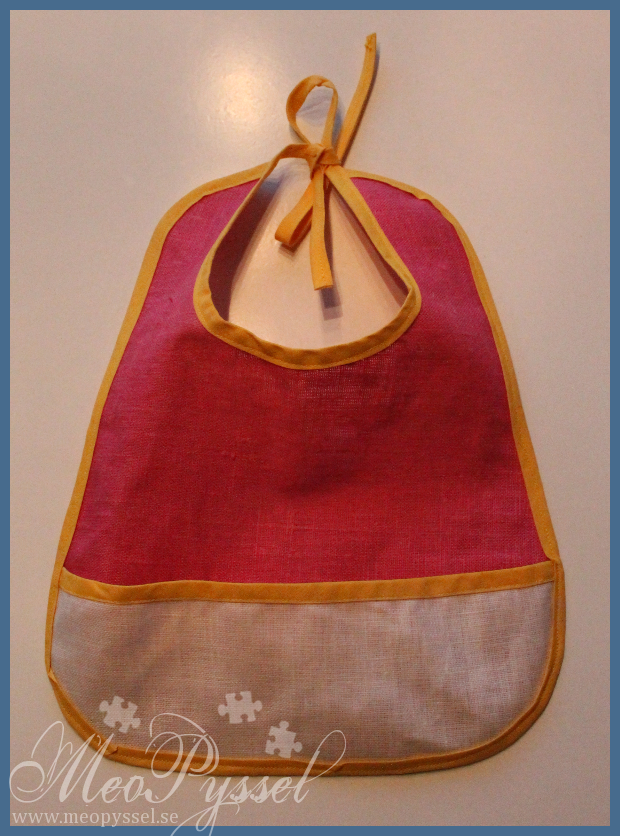 For the next one I altered the neckline by just drawing a straight line from the inside of the neckline and up to the edge. I also made the pocket a bit wider so it would stand out more then one the green one, but after using the green one the pocket stands out enough so I won't do that alteration on the future ones. One this one I was in a hurry when it sewed the lining so it's folded on some places (sorry for that). I really like the color-combination of this one and I look forward to made more bibs in different colors. I intend to decorate the pocket on future ones but I haven't found a way to stitch on letters and shape which gets nice enough, yet. This one is also made with vaxed fabric and cotton liner.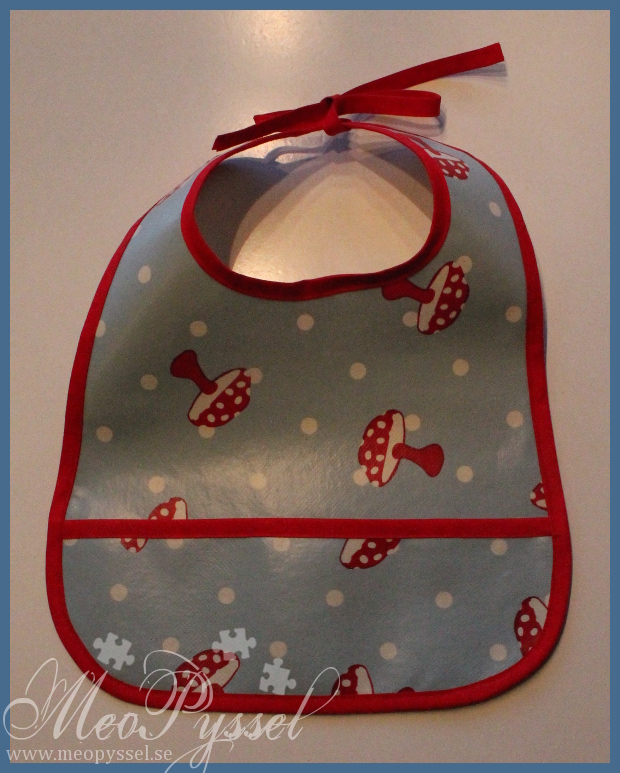 The last one I made is from oil-cloth (a piece of a tablecloth) which is a bit stiffer then the vaxed fabric (Freja can use it but I think it needs to be used more to soften the fabric some, now it looks a bit uncomfortable but still usable). I just love the mushrooms! One this one I also altered the neck but i keep the pocket as the pattern made it.
Now when I have made some and got a hang of it a bib takes about half an hour to make from start to end. So it's easy and fast. I really recommend it for those with infants (much cheaper also). Example: The muchroom-bib roughly costed 4 Euro (for liner and fabric) and then I have fabric left for probably two more bibs. I will make lots of more (have lots of fabric left) and I intend to leave some behind at Freja's Grandmothers, aunts and so on so I don't need to bring it with me all the time. I also plan to make some as gifts but that is probably something for later.
And here comes a picture of Freja eating and smearing bana-pure all over in her pretty bib.

Träffar: 104