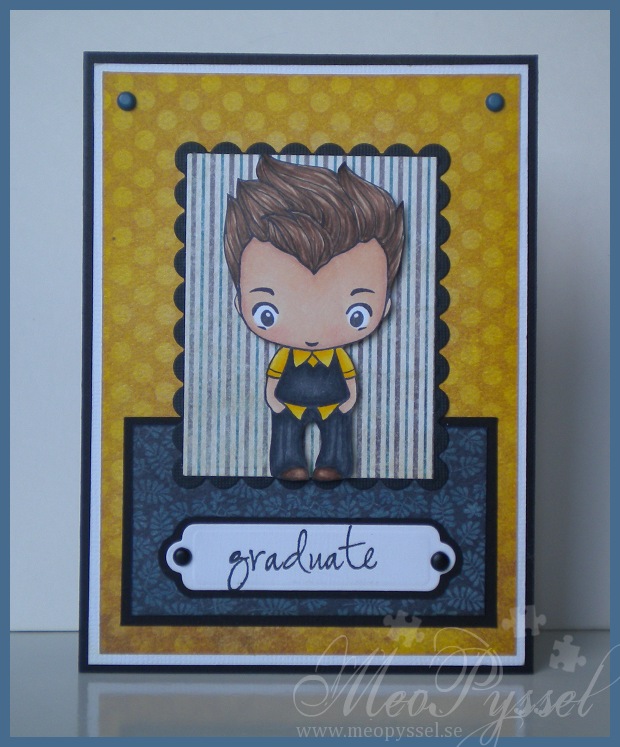 This week my eldest cousin graduates and unfortunately neither me or my family will be able to go. Instead I have made this card to arrive with our gift.
I'm at writing moment really sick and I can't believe I actually succeeded to make a card. I have to admit that the inside and my handwriting is terrible but the front is really good considering.
The image is The Greeting Farm's Edward and the paper I used is My Minds Eye. The Swedish colors are yellow and blue and I wanted to make a card in these color sense they are traditional graduation colors here. I got my graduation-papers out and really disliked them all all of a sudden, I wanted more depth. So i went through my papers for anything yellow and blue and found these. The sentiment is from Amy R's Big Words & Handy additions set.
The yellow paper have been heavenly distressed with Mustard Seed to get a bit brighter yellow.
Stamp: The Greeting Farm – Edward. CC Design – Big Words & Handy Additions.
Paper: My Mind's Eye – Stella and Rose – Hattie
Copic: E11, E231, E51, E93, Y19, Y15, E53, E57, E59, N9, N7, N5, N3, 0
Dies: Spellbinders – Nestabilities – Large Scalloped Rectangle, Large Rectangle. Spellbinders – Shapeabilities – Double ended Tags.
Other: Distress Ink – Mustard Seed

Träffar: 206