So it have now been a while sense i posted and it have been to reasons for that. The first one is that i for like two-three weeks ago bough myself (or to be exact my mother and father gave me as an early birthday gift) a IKEA Expedit shelf. I have wanted one for my crafting corner for a while but haven't been suer on if i could make it fit there. But after some measuring it make it work.
So after a trip to IKEA and some assembling I have been rearranging my crafting corner, form top to bottom and you can see the result here.As you can see my corner now contains an Expedit-shelf, a desk and a Benno-shelf.
One of the first things I did was to make another Copic-storage (you can see the first one here) and then i just put them together. After i was done i did realize that the top was a nice platform for my distress inks. Next time or sometime in the future i will make the top level so they will stand better. The angle isn't very good for my memento dew drops but it will have to due for now.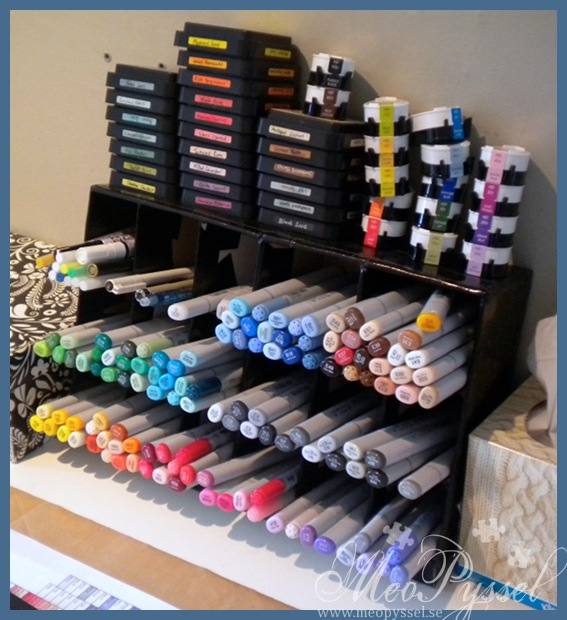 In my new Expedit i put in my paper-storage and it feels really good to have all the papers in one place and nearby. The other 3 shelfs i filled with things i want to have nearby. The middle one contains my ribbons ( i also made two nice boxes for my ribbons), stickers, pearls and brads. The second one to the bottom is containing my folder with dies, craft spinner and other stuff. In the lowest one i have all the stuff that i have a hard time sorting but also big things like my heating gun, tea-lights, and jars of flowers. Someday when i get rich i will get doors for the bottom second and the middle one so i can hide the mess.
In my Benno i still have almost all my stamps, stored in cd-cases. I hope to be able to switch them to the Stampin' Up cases very soon and as you can see I only have 8 right now, and they don't have the covers i want to but they will. In the small middle-compartment i have my hairbrush and stuff like that ( i don't have another place for it right now). Under that i have some small jar of buttons and my diecut letters. On the two lowest compartments i have my small paper-packs. On my paper-packs i have written the brand and name of the collection on the back so I quickly can find then easier.
I'm really happy with how things work right now and all I think i have to do is to alter my kleenex-box a bit.
Träffar: 87