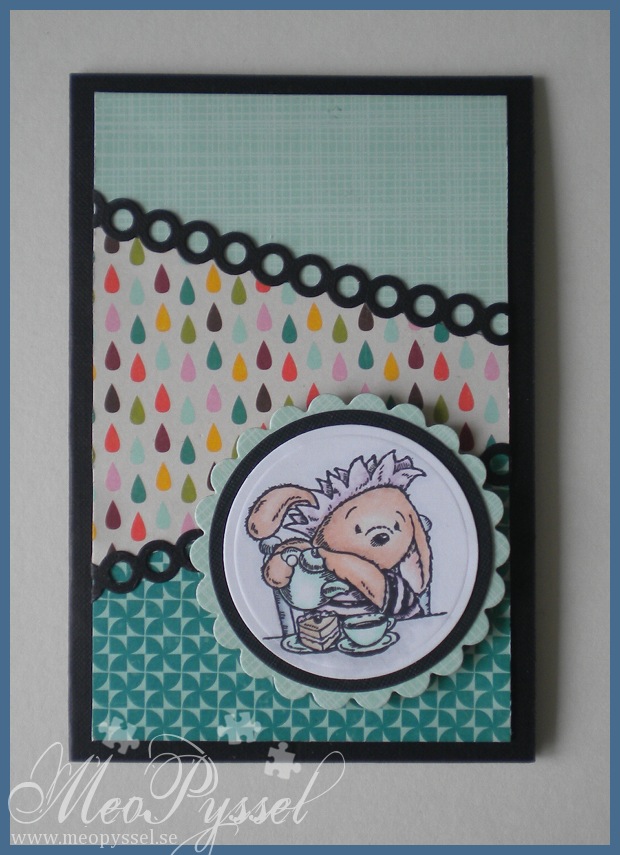 So i have finally finish this card off! The pieces have been laying on my desk for almost two week waiting for the border that will create the contrast.  I did the layout out of one of Amy Rysavy's cards that i really liked, you can see it here. I love how she combined the colors and the image. I think that I succeeded with getting the colors from the paper into the image but hers i better balanced. The black border got a bit harsh but i really couldn't find a better color in my stash.
The papers is from Echo Park's collection A walk in the Park and the die that is used for the borders are Dainty Dots from MFT. The framing around the image is made by nestabilities circles and scalloped circles.
The Image is a free sample from the paper The Craft Stamper. The image is a Cuddly Buddy and are a part of their image Toby's TeaParty. I have colored him with copic and tried to keep it as bright as i could im am very pleased with the result:)
Papers: Echo Park's A walk in the Park
Copic: 0, E13, E11, E00, N1, C0, C4, G00, V12, R20
Dies: Nestabiliet's small and large circle and large scalloped circles. MFT's Dainty Dots.
Träffar: 75