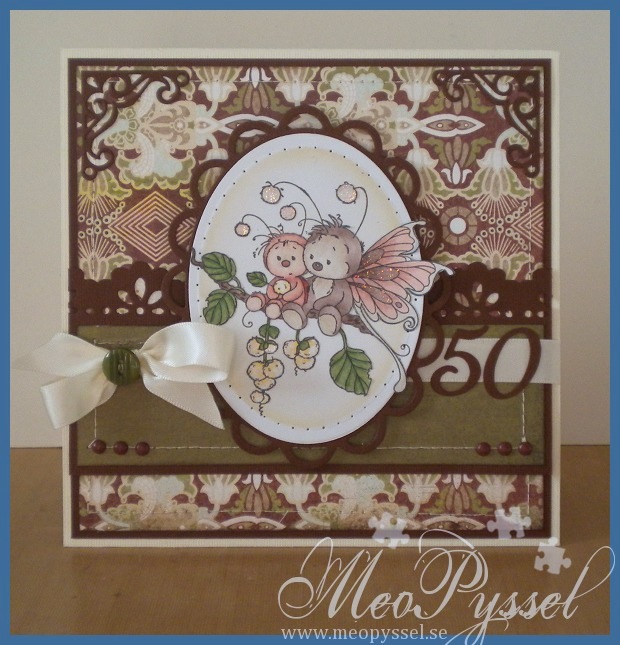 I have for a long time wanted to use the Sympathy Bugs from Wee Stamps, but every time i start out coloring I have to put them aside to complete another project. But finally I used them. This card is for a fellow teacher at my school that turned 50 last week. But this Monday we will celebrate her so I volunteered to make the card.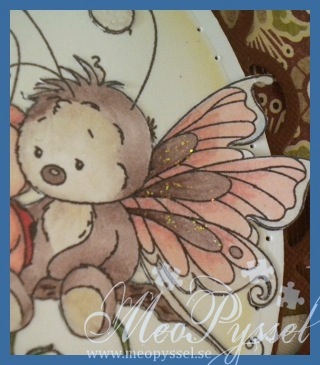 I colored the bugs to match this beautiful papers from Basic Gray's collection Cappella. I just love the feminine tone of the papers and the patterns, without it getting to girly. All the papers have been inked with Memento's Rich Cocoa, I also sew around the edges with a cream thread. I still haven't gotten the hang of the sewing. I doesn't get straight and i have a hard time to see when I should stop at the corners, but i could cover up the worse mistakes. I used this weeks sketch from Sketch Saturday and jazzed it up a bit. The sketch is very like how i start out most of my cards, and also very similar to the one I did for Theo last week so I tried to add some interest by not letting the lower part go all the way to the bottom.
To frame my bugs I used the Lacy ovals from Spellbinders. The bugs are actually colored on a separate piece that I then cut out and glued onto the oval. I really like how the wings got dimension like this, they don't just go outside the frame, they also goes up a bit. The edge of the oval have been distress with Antique Linen and paper pierced.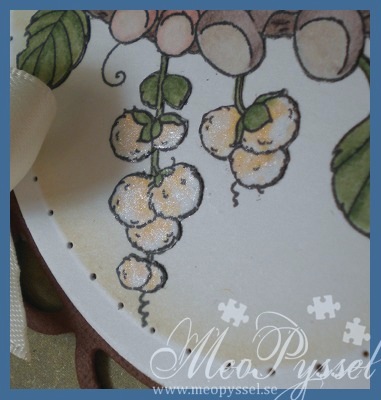 I have embellished the cards with one of the corner-treatments from provocraft's vintage die and some brads from my stash. The decorative edge at the green paper is made with the my edgeabilities; the border is from the classic triple scallop and the insert is from the classic Ric Rac. The bow is tied as a Nellie knot and the button on top is from the basic gray set Hello Luscious. The sentiments or rather the letters are from Quickutz's alphabet harvest. On the bugs antennas and the wings I added some diamond Stickles, and on the flowery puffs I painted with some pearl Glimmer Mist so add some glitter and glimmer.
The inside is made with the same papers and the same idea, just switching up the colors a bit.
Stamp: Wee – Sympathy Bugs
Paper: Basic Gray – Cappella
Copic: E79, E74, E71, Y21, YR20, E05, R20, R000, E07, YG67, YG63, G24, YG93, YG91, E40, E41, E31, 0
Dies: Spellbinders – Nestabilities – Lacy Ovals, Large Oval. Spellbinders – Edgeabilities – Classic Ric Rac, Tripple Scallop.  Provocraft – Vintage. Quickutz – Harvest.
Other: Memento – Rich Cocoa, Distress Ink – Antique Linen. Stickles – Diamond. Glimmer Mist – Pearl.
Träffar: 440