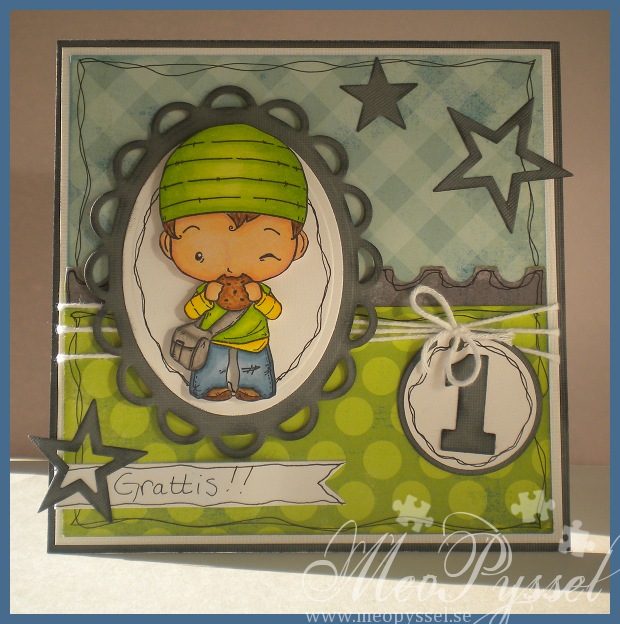 Have have to admit myself to be a bad godmother to little Theo. His birthday was this weekend and he still haven't got a birthday-card. I started on but i have had a hard time getting back to everyday-life after the wedding and after-wedding-stuff. But i finally finished it so it will go in the mail in a second, better late then never I hope.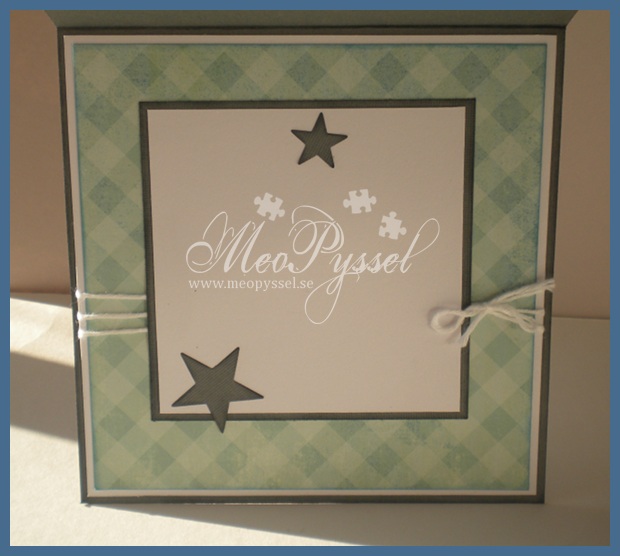 Anyway… I colored in one of my new stamps from the Greeting Farm's set Just for You. I just love The Greeting Farm's boys, not that to fond of the girls strangely enough. I colored him after the paper "Wish" from the Mind My Eye's collection Fly a kite. I really like how the hat and shirt turned out, i like my latest buy of Copic more and more every day. The Paper is from My Mind's Eye and the nice border is from the edge of one of the papers in the same collection. I have distressed the blue papers with Broken China and the green with peeled paint. The gray cardstock have been inked with memento's tuxedo black.  I also doodled around the edges to get a more whimsy and fun look.
The greeting is handwritten by me and means "Congratulations". The banner is made with my new die from MFT, the First award ribbon-die. I love the banner shape and just get annoyed when they don't get straight so I bought the die – and it's perfect! You will so see more banners from now on! The Number one is put on a tag from Tim Holtz's Tiny Tabs and Tags, and i backed the tag with a gray paper that i cut with a nestabilitie circle.

Stamp: The Greeting Farm – Just for You
Paper: My Minds Eye – Fly a Kite – Wish, Out of the Blue – Boy
Copic: E11, E21, E51, E00, B91, B93, B95, B97, YG25, YG23, YG21, YG03, W5, W3, W1, E37, E35, E33, E31, Y08, Y15, Y14, E59, E57, E53
Dies: Spellbinders – Nestabilities – Lacy Ovals, Ovals, Circle. Tim Holtz – Tiny Tabs and Tags. My Favorite Things – Stacking Stars, By the number, First Place Award Ribbon.
Other: Distress Ink – Broken China, Peeled Paint. Memento – Tuxedo Black

Träffar: 82