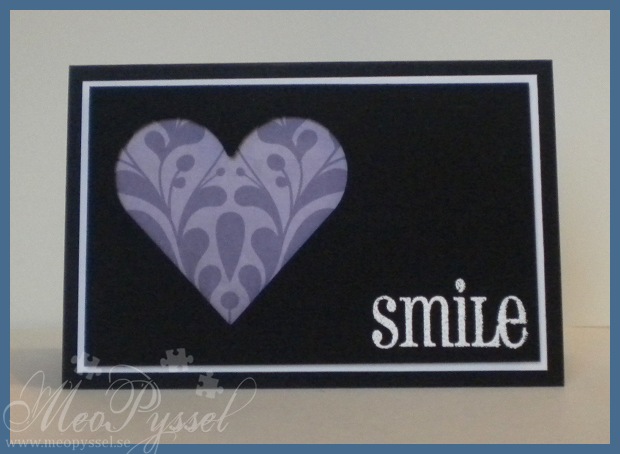 So when i finish the House Mouse-card I still had some time over and i wanted to make a card for my dear friend that i feeling a bit down now so I want to cheer her up in the only way i can.
A week or two ago i saw this card on the Casual Friday Challenge and i just love it so I wanted to make a clone. Yes i have started to clone cards, I'm trying to expand my style a bit and I think this help with widening my horizons.
Anyway, my friends favorite color is purple so I wanted to incorporate it into the card. I started out with the same idea but with purple and white, or purple and black cardstock but it just didn't look good so i went back to original card and used a black and white cardstock and only having some purple in the heart. The purple paper is from Kaiser Craft and the Sentiment is from AmyR's Big Words and it's embossed with White embossingpowder. I have to get me some ultrafine embossingpowder. The top layer, the black one with the heart-window is pop up on some dimensionals.
Dies: Spellbinders – nestabilities – Classic Hearts
Stamp: AmyR Sentiments – Big Words & Handy Additions
Paper: Kaiser Craft
Träffar: 67