So last weekend was my mother's birthday but i hadn't had time to make her a card so i have spent a bit of this week (coloring and cutting) and weekend.
As it was for my mother i just had to use a mermaid or some fishes, so i choose my favorite mermaid, the Sweet November Bubbles Lostlagoon. Both me and my mom really love the blue/green color, she more for the mint green and me more for the petrol, so I decided to use Bo Bunny's collection Peacock Lane. I tried to color Bubbles accordingly to the papers. I used BG45 and BG49 for the hair and i have to say that i love these pens, the blend so nice and give a such nice vibrant color – I need to use them more often from now one. The pearls in her hair have been colored with a white gelly roll-pen. On the tail I used like the only combination of yellow/green that i have but i didn't feel happy with it so i tried to give it a bit more texture by making a crisscross-pattern. But I still didn't like it, it looked to dull so i covered the tail with some crackle accent. To make Bubbles company i stamped and colored Seamoore and Lio that are companions for some of the other mermaid but i thought that this would be perfect for my mother.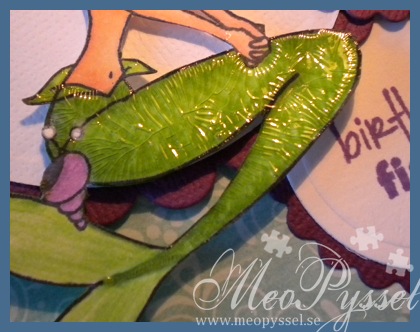 For the sentiment I used AmyR's underwater sentiment stamped with some Grape Gelly Memento Ink. The 47 is made with the smallest scalloped  and normal nestabilities circle and the Provocraft's alphabet Babyface. The ribbon is tied with a Nellie-knot, I saw Heather making on on a video, you can find it here, and I just loved it. I have always had a problem with using sheer ribbon due to the fact that i don't like the adhesive showing through and i want the ribbon to be at least a bit fastened- so this was a great solution, and it worked out great for this card!
Lastly i hope my mother can forgive me for putting her age on her card:D
Stamp: CC Design – Sweet November Mermaids – Bubbles Lostlagoon, Seamoore, Lio. CC Design – AmyR Sentiments – Underwater sentiments
Copic: E11, E21, E51, R22, BG49, BG45, BG11, YG17, YG13, YG11, V17, V15, V12, 0, E31, E33
Papers: Bo Bunny – Peacock Lane
Dies: Spellbinders – Nestabilities – Large and Small Scalloped Circles and Circles. Provocraft – Babyface
Other: Memento – Grape Gelly. Gelly Roll pen – White.

Träffar: 183