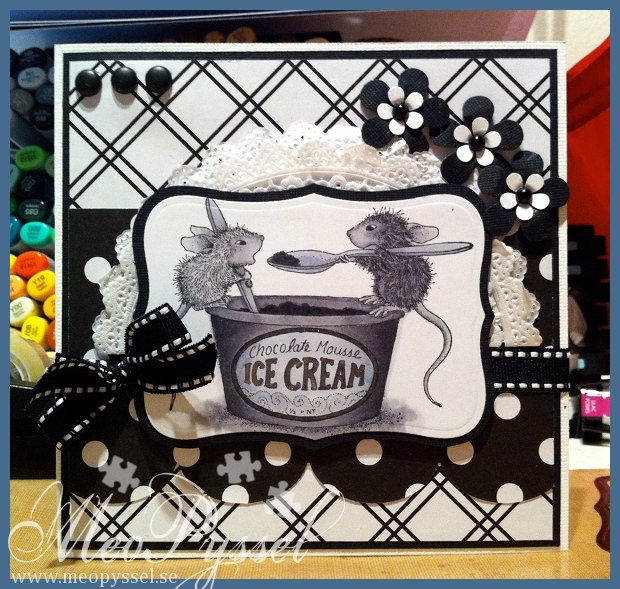 So i just made the first card in 2012, whoho! The card is for an old high scool-friend that turns 25 next week. I have no idea what colors she like and i knew House Mouse had a black and white challnge i thought it would be perfect.
The mice i colored with mostly neutral grays and some addition of cold grays. I really like how the darker mice's fur turned out, the light one was hard to get the texture without making it darker so i kept it as i was. The edge of the ice cream-label and the text is also painted with some sakura stardust-pen, it's a bit hard to see on the picture but you can see that it do have another shade then the rest.
The papers that is used is of an unknown brand, I did buy a couple of sheets as a pack but they came as loose papers. If anyone recognize them please tell me. The scalloped edge is made with Jumbo Scalloped from My Favorite Things. The flowers are made with EK Sucess' Medium retro Flower and Flowerpower punch. I also used some doilies and they are my forgotten item for this card. A long time ago i bought a lot of dodilies from Panduro but they apparently ended up in the bottom of my paperstash, because that were i found them when i went into the wardrobe and for my hidden-away-papers.
But the most exciting is the brads! Some days ago i got a nice package home in in mailbox containing We R Memory Keepers Brad Setter and Piercing Tool. I ordered it when Amy recommended it with the comment that it might seem like a waster but that once you use it you'll love it. I always get annoyed that my brads don't line up due to the fact that when i open the legs they get uneven. And after using it on this card I just have to say: I LOVE IT! It's simple, saves my fingers from getting the bradlegs under my nails, and the brads get straight- so simple and just wonderful!
Copic: N1, N3, N5, N7, N9, C2, C4, 0
Dies: Spellbinders – nestabilities – labels 8. My Favorite Thing – Jumbo Scallop
Other: EK Success – Retro Flower Medium and Flower Power
Träffar: 307