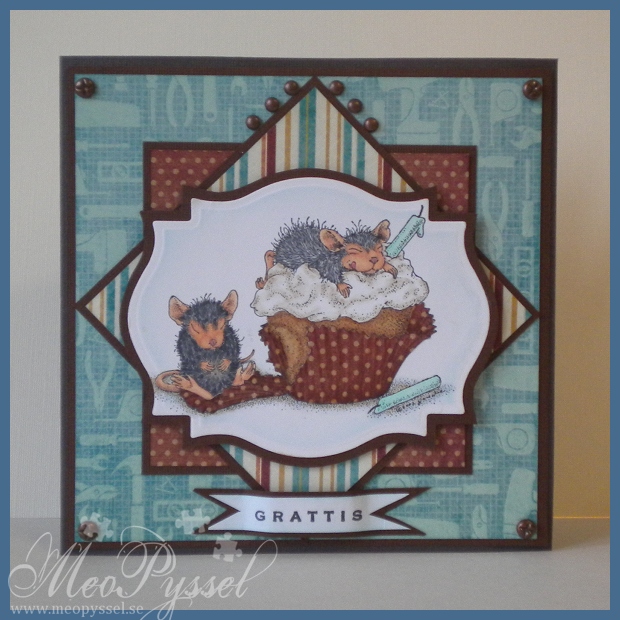 Det här kortet har jag gjort inför min morfars födelsedag i slutet av veckan.
När jag var liten och vi var uppe och hälsade på mormor och morfar tog alltid morfar fram lite olika verktyg, mest hammare och spik, och vi satt och hamrade och snickrade i evigheter. Det blev mest kostigta sammansättningar av olika bräder men jag har nog aldrig haft så roligt som vid de tillfällena. Därför försökte jag göra ett kort som skulle påminna om de stunderna.
För en närmare beskrvning av hur jag gjorde kortet se under den engelska delen.
This card is for my grandfather for his birthday on the 27th.. A couldn't help myself so i choose on of my absolutely favorite stamps: the House Mouse Birthday Cupcake one.For the papers and the coloring I had a speciall paper in mind. The paper is the blue one from DCWV's The Guy stack.
When i was little and spent time up with my grandparents my grandfather always gave me and my sister some nails, hammer, saw and some wood and we did put them together in all kinds of ways. I have to admit that that it really turned out nice or as something but we had so much fun. I did do a Kallaha-game once but that is the only finished thing i can remember. Whenever i see different carpenter tools I always think about him and their driveway, those times is really some of my most treasured memories and I did wanna get a part of them in this card. That background for the card is a part of the warm and fuzzy and warm aspect of the card, an feeling aspect:), and i do hope that bu sharing this i will qualify for this House Mouse Challenge, otherwise i will hope that the warm and fuzzy mice will due;).
All the edges have been distressed with either Tumbled Glass or Vintage Photo to get ride off all the harsh white lines. The brads in the corners have groves like a screw to match the tool-theme. For the shadowing on the cupcake-wrapping i used E39 and a lot of blenderpen. Then only thing i would like to caution about is that the paper I have used is all coated with some glossy material so making the shadows wasn't that easy and the color just runs of the glossy parts.
Stamp: House Mouse's Birthday Cupcake, Reprint's Grattis ("Congratulations" in Swedish)
Copic: E04, E13, E11, E21, N1, N3, N5, R20, E40, E43, N7, N5, N3, E31, E33, E35, C0, C2, E31, G00, BG11, E39, 0
Papers: DCWV's The Guy Stack
Other: Spellbinder's Label 18, Tumbled Glass and Vintage Photo Distress Inks.
Träffar: 413