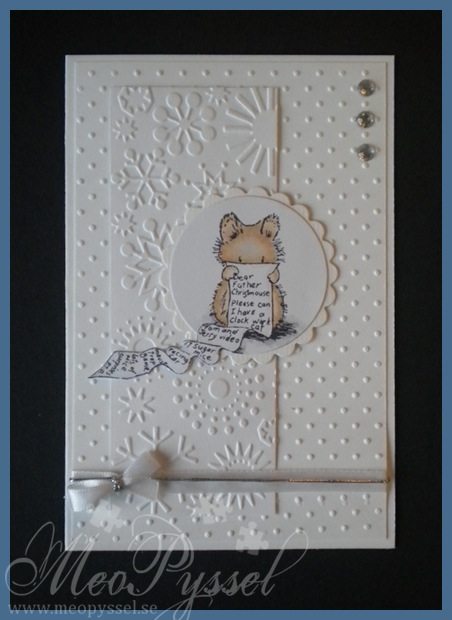 So i just did my first Penny Black card for the order. I have for a long time now wanted to try to make a all white card and when Penny Black's Saturday Challenge had an challenge of a white and silver card i just jumped on the challenge.
I did use two embossingfolders from provocraft, the Snowflakes one and the Swiss dots.  The image is on of the ones (and one of my favorites) from Penny Black's Christmas Critters set.
The card is decorated with a white ribbon and some silver thread. I also used some rhinestones that gets a bit of silvery shine against the white aof the card.

Copic: E93, E31, E51, E40, N3, N1, C0, 0
Dies: Spellbinder's Large and Small Circles and Large Scalloped Circles
Embossingfolders: Provocraft's Swiss dots and Snowflakes
Stamp: Penny Black's Christmas Critters

Penny Black's Saturday Challenge – #176 Christmas & Snowflakes/Snow & Silver
Träffar: 124