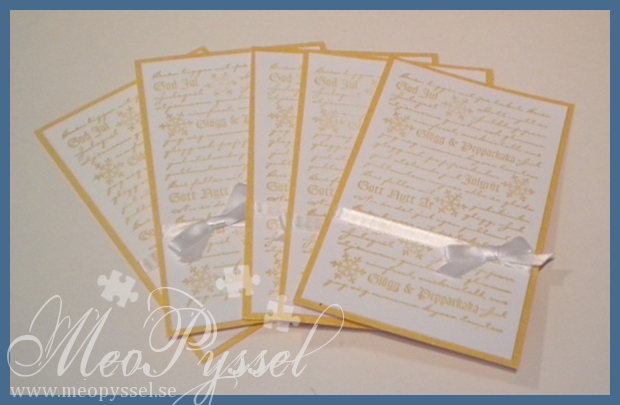 So i have just finished the nest step in the big order i got. The part of the order was 5 cards (13 x 8cm), unfolded- like a postcard and i were to use as much as possible of the Reprint stamp Julbakgrund and at the same time making is as simple as possible.
As you all can see i used a shimmering golden cardstock as background and both a regular pen and pencil can without problem write on the background (I tried). Then i stamped the text (with is Swedish christmas words) one and a half time down using my stamp-a-ma-jig as a help. I used Archival's Brilliance pad Galaxy gold which i think matched perfectly with the golden background. The ribbon is a regular white satin ribbon that i tied as a bow and placing it on the right or left side.
This is made after the the clients wishes and i was was free to do what ever i wanted i would have used this as a cardfront and adhered it to a regular C& white (folded) card. I'm not that fond of writing the greeting or message on an colored surface but i did work so it will have to do.
stamp: Reprint's Julbakgrund
stamppad: Archival Brilliance Galaxy Gold
Träffar: 72