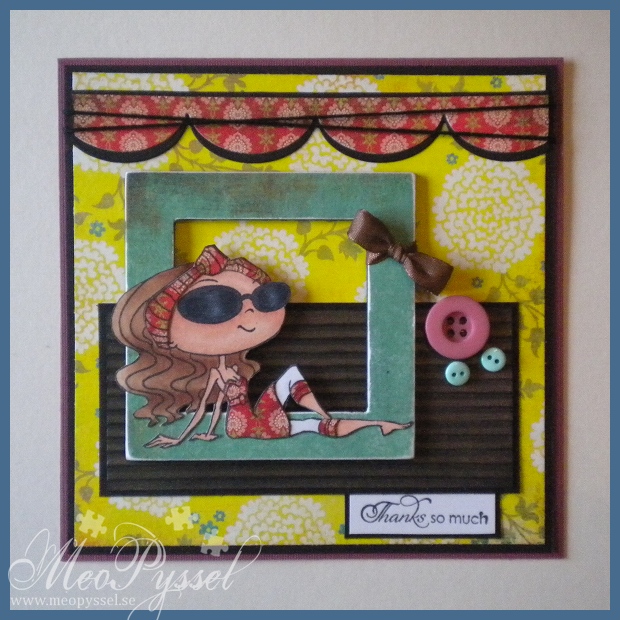 I'm just so stupid, i have been doing this card all evening with the thought that the Kraftin' Kimmie recipe was: a bow, a button and a chipboard. Sigh. Well fortunate i seem to have everything everyday if you count the flowers on the paper, which i do.
Well anyway… The card is made based on Basic Gray's collection Hello Luscious and both paper and buttons are from that collection. To get some dimension i did run the brown paper through my paper crimper and i used a piece of thick chipboard that i glued the blueish paper to. I did sand the paper on the chipboard to get the white of the paper and the chipboard to blend together. The sides, on the outside and on the inside is painted black with a magic marker just so the gray won't show.
The stamp that is used is Kraftin' Kimmie's Florence and the sentiment is from Gina K's Fanciful Tags. I did paper pieced Florence dress with the same paper I used in the top border. Otherwise she is colored and shadowed with copics. I'm not happy with the lower part of the face. Stupidly enough i did the glasses last so i spilled some black onto the face and when i tried to save it the colors got separated and bad, and it felt like it got worse the more i tried to save it so i gave up.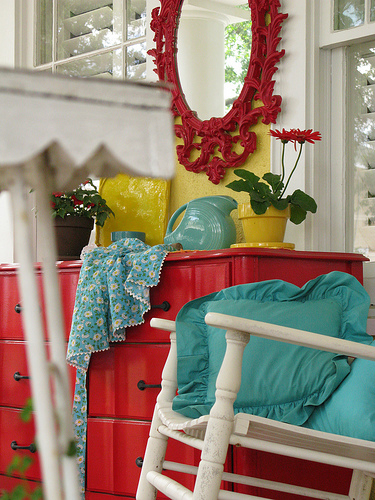 The black twine and the brown ribbon is some generic kind that i just had laying around. It was the same with the chipboard, i got it in a free sample pack a long time ago and i don't remember from were i got it.
The colors of the card ain't that true in this picture. It's stormy outside so i had a hard time to get a good light to take the picture in so the colors are a bit brighter then in real life. The card also look very much more dimensional then on the picture, it might be the colors that makes it look flat but i also had to take the photo of the card laying down which probably doesn't help…
An inside will probably come tomorrow, I'm just to tired now and will get something to eat…

Copic: E00, E11, E13, E39, E35, Y21, 0, C0, C2, C10, C8, C6
Stamps: Kraftin' Kimmie's Florence, Gina K.'s Fanciful tags
Paper: Basic Gray's Hello Luscious
Other: Basic Gray's Hello Luscious Buttons, MFT's Jumbo scallop border die, Paper Crimper

Träffar: 254