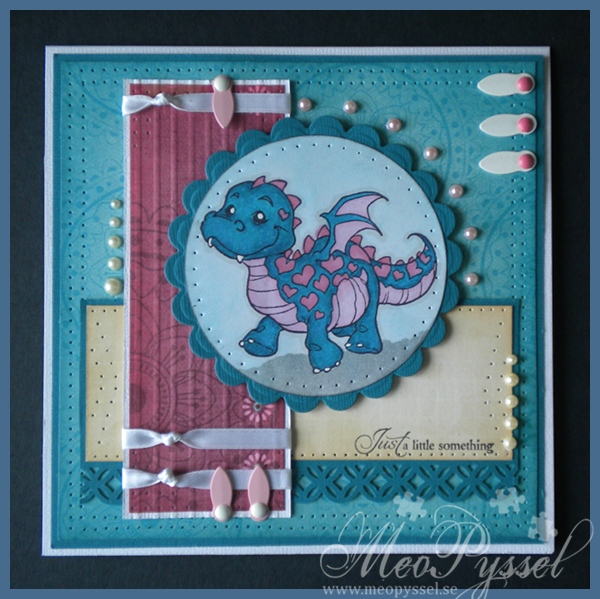 Todays card is one inspired by Whiff of Joy's challenges, that i found a few days ago, and it's for my dear friend Eva for being my light and inspiration!
Sense i only have one Whiff of Joy stamp that became an easy choise, and it's not getting harder by the fact that it is one of my favorites. The challenge this week was "aqua, pink and cream" (#104) so i decided to give it a try (even if i just realized that it's closed now but im very happy with the card). The image is of course Whiff of Joy's Puff-heart Dragon and i colored him with both promarkers and copics. I did go over the colored image with my blender to get the more distressed look. The background of it is made with weathered wood and tumbled glas.
The papers are all from Bo Bunny's collection Sophie, and i just love these papers. All the papers have been inked and distressed with either Broken China, Worn lipstick or Antique Linen. I did paperpierced a lot on this card and all the odd shapes like the circle and the arrow-like one on the cream paper is made with Gina K's paperpiercing-templates. The sentiment is also from Gina K and is from the Fanciful labels. On the pink paper i also scored at 0,5cm apart to give it more texture. The border at the cream papers
The inside is made by the same papers and are inspired by Donna Wardel's card-insides. Unfortunately my white ribbons has run out so i used one matching the cardstock instead.
I'm entering this card into A spoon full a sugar nr 158- Things with wings.
Träffar: 91