Todays card is made with an focal that I experimented with yesterday using emboss-resist-technique.
The focal image is first stamped with Gina K's timeless textures, with Versa Colors 152 Ash Rose, the script stamp and then i clear-embossed Hero Arts Flower Lady. After that the entire imaged got heavily distressed with milled lavender. I did the same thing with the label, that is the Quickutz die labels, and i stamped two small hearts on it with the Ash Rose again. The cards background is a simple white cardstock that have been teated with provocrafts embossingfolder Victoria and then lightly distressed with some more milled lavender. The bottom edge, bot white and pink paper, have been punched with Fiskar's border punch scalloped circles. The flowers are simple white Reprint papers that has been embellished with some small pearls. The ribbon that is used is a pink multi-colored one that i think match both the dark and the light pink. The dark pink cardstock is a bazil bling one which makes it a bit hard to get a accurate picture of the color but it works really good together with the ash rose and milled lavender. The card is a 15 x 10cm, very close to an A6.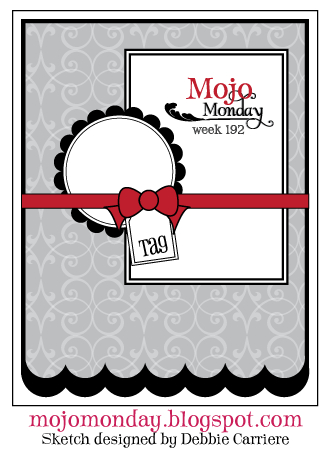 The cards layout is from this weeks Mojo Monday (#192). I didn't change much but I'm happy. I'm also trying to enter this month Hero Arts challenge for the first time.
Träffar: 121