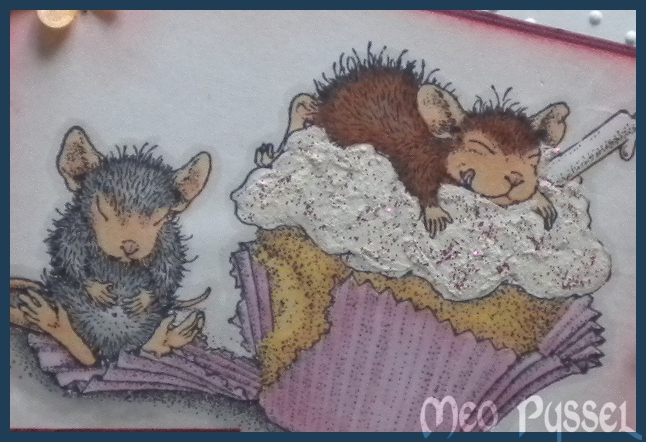 Todays card is a birthday card for my sister that turns 23 in the beginning of next week.. I don't think this is the colors i associate with her but i stared with a pink cupcake-holder then i just became this pink…
The image is House Mouse Birthday Cupcake that is a part of the Birthday: Ice Cream-set. The little mouse with the cheese-gift, on the inside of the card, is from the same stamp-set. The images is colored with promarkers and i'm really happy with the result on the cupcake (gold, apricot and pastel yellow). On the frosting on the cupcake i have used my snowmarker, very thin layer, and then i painted on some Magenta sticklers. I use a brush to paint the stickles so i could get a thin layer and exactly were I wanted it. You can see the dimension and the frosting better in the picture to the right. The sentiment is a Penny Black stamp from the Critter Party-set. I stamped it with Versa Colors 15 Magenta. 184 Misty Mauve and 13 Orange to match the colors on the paper that is from Crate Papers collection Pink Plum. I have tried to keep the color-scheme on the inside.
All papers and stamped areas have been distressed with Worn Lipstick and the fabric butterflies have also been distressed with Worn Lipstick and some Spiced Marmelade. The butterflies had a to strong colors so i used the backside up to just get a hint of the original color that i then altered with distress inks. I just stapled on the butterflies with a regular staple-machine. The background paper and the white paper have been dry embossed with provocrafts embossingfolders. On the background i used Victorian and on the white paper i used swiss dots. The border under the ribbon is made by Martha Stewart's border punch modern garland. The buttons is from old clothing and have been embellished with some multicolored pink thread.
The Layout form this card i got from this weeks Sweet Stop Challenge (SSS104). And due to nice circumstances I'm also entering this card for a couple of more challenges.
Challenges:
And THANK YOU Kristina for borrowing me the Easel. I think it works great and made the photographing much easier. Now i need to but my own and paint it!
Träffar: 308