Here comes some of the spreads for week 11 to 18 2014.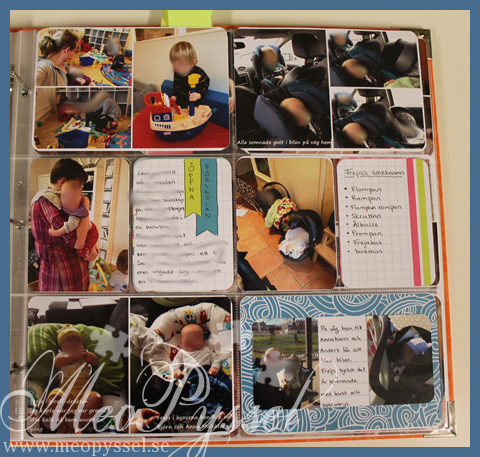 Week 11: On this spread I used the Journal themed cards from Becky Higgins and I did use some Jillibean Soup alphabetstickes for my titelcard. This week I tried something new and added some text to my photos before I developed them. I like how it turned out and that I could get quite a lot of text on the 3×4 without writing all over it. I have marked which week it is on my monthly card with a small clearstamp dot and a couple of different memento dew drops.
Week 12: On this spread I used some yellow cards from Midnight and I mostly decorated with these circle letters from Fancy Pants paper True Friend. I also used some enamel from doodlebug, I love all enamel dots and have quite a few but I never use them because I never know how to but I think I was successful this time.
Week 13: Here I'm using Kiwi from Becky Higgins and a sticker from Me and My Big Ideas called Baby Girl.
Week 17: I'm using Cherry from Becky higgins and decorated with some banners made with Stampin Up's Banner punch, the stampset Banner Blast and some memento dew drops. The Love banner at the right side middle is from one of the studio Callico-kits.
Week 18 is a double spread due to a weekend trip we made to our friends summerplace. I have used the Becky Higgins Slate and the decorations are stickers from the Simple stories DIY Labels. The letters are as usual Jillibean:)
Kits: Becky Higgins – Journal, Midnight, Kiwi, Cherry, Slate.
Decorations: Jillibean Soup – Alphabet stickers. Memento dew drops. Fancy pants- True friends. Doodelbug – Enamel. Me and My big ideas – Baby Girl. Stampin' up- Banner punch, Banner Blast. Studio Callico. Simple Stories – DIY Stickers Labels.
Träffar: 74